Martial arts can change a person's life, generating greater focus, confidence and self-defense with each practice.They are also called military arts and are very well known as practices and traditions whose objective is to subdue or defend oneself through a specific technique. Beyond everything, a large part of the martial arts schools exclude the use of firearms or any other type.
Regarding mixed martial arts, they are the combination of techniques from different martial arts and combat sports, generally used for competition in combat sports but also for personal defense.
You may wonder why we emphasize the issue of martial arts? And it is that on this occasion we spoke with a Tico pride, the athlete André Barquero, who recently triumphed in the Lux Fight League (MMA League from Mexico and the World), defeated the Mexican César Vásquez in the 135-pound category by way of submission.
It is always important to know more about the athlete who reaches a goal… André is a native of Alajuela, Costa Rica, and since he was very young he has lived in Cartago. His eyes were bright when he told us about his childhood, which he considers was always happy.
Of the teachings of his fathers, he remembers the sayings and proverbs that expressed so much to him and his brothers, among them: "the lazy and the petty walk the same path twice", "the dull ox drinks dirty water", "he who listens to advice reaches old" among other sayings, that while you are a child a person can hear so much and when you grow up they are recorded, we understand and value the meaning more, that help us to advance like André, being good people with principles and approaches."My parents have had a great influence on my mentality and my overall development as a person and an athlete."
Sport is the passion of the young Costa Rican, however he has a degree in Business Administration with an emphasis in Market, he does not exercise it in his day-to-day life as such but rather contributes with his knowledge to companies of friends.
Among his hobbies, sports video games stand out: FIFA, NBA and Madden; his shock at watching the martial arts at the UFC 2009 Undisputed game led him to enroll in an academy. He has already 13 years old in martial arts.
Achievements obtained in Costa Rica and other countries
André Barquero, has been Brazilian JiuJitsu National Champion multiple times. He currently holds a black belt in JiuJitsu under Daniel Gracie.He was also a National Amateur champion of mixed martial arts in the old Calvo Promotions league. Latin American Champion professional (125 lbs) mixed martial artist in the former CRF Show league, which at the time was the largest league in Latin America.It is worth noting that Barquero was the first Costa Rican to win a mixed martial arts fight in Japan and in Global combat.
What does it take to stay in the world of Martial Arts and what have you learned from them?
For André, a lot of resilience is needed as in anything in life, since the day to day of an athlete is full of ups and downs, "that is why a lot of conviction is needed in case of choosing it as a profession, because it is a sport in which one that takes many blows and injuries. However, it opens many doors to travel and meet people. I have learned a lot in the dojo, tatame, the ring, everything has left me many lessons, likewise the sayings of my parents".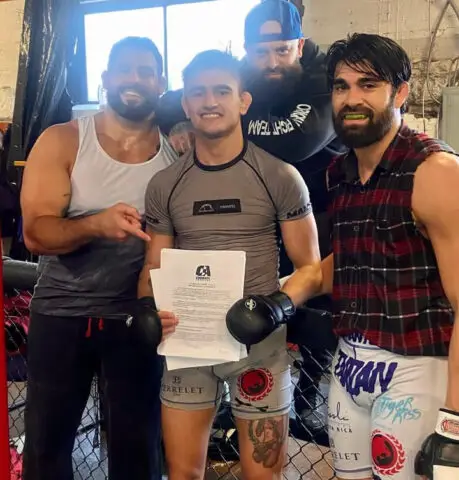 Within the tatame there are teachings that must be applied in life, as explained by the Costa Rican athlete:
"There is always more and less than one", "Sometimes you are the hammer, but sometimes you are the nail", "We are all the same" from the white belt to the black belt everyone deserves the same respect", "The tatame does not lie", here André added, that "the tatame is the special floor that we use to train, it is like a mat, by this I mean that the tatame, as an exam, life does not lie on the sense, that if, for example, you have not trained on the tatame, it will be reflected… if you did not study for the exam, it will be reflected… if you did not prepare for anything in your life, it will be reflected in your life" .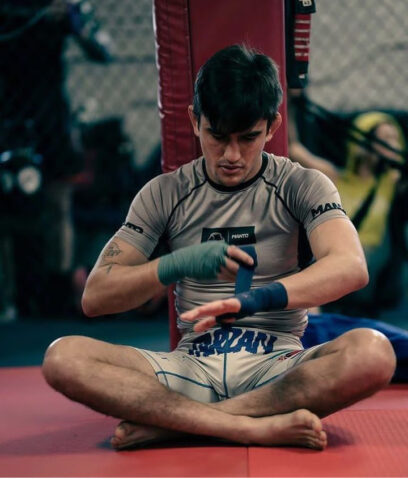 What do you think you still need to do or achieve?
The Costa Rican athlete is preparing more and more to reach the UFC, climb the rankings and be a champion. He remains focused on becoming champion of the biggest league in Latin America (Lux Fight League) in order to take the big step with the UFC.
What inspires you about Costa Rica and its people?
André Barquero is fascinated because Costa Rica is a Pura Vida country, "full of nature". Regarding sports, we are a country that has focused more on soccer, while there are athletes who are showing great level and results in other sports disciplines".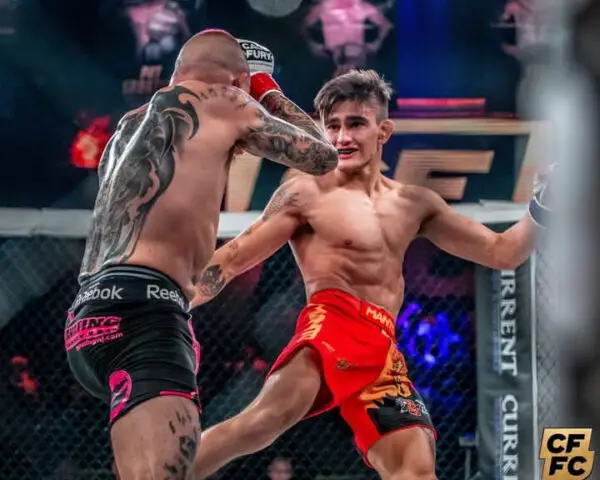 Within the country, Barquero admires athletes such as David "Medallita" Jiménez (Boxing), Kenneth Tencio (Bmx), Sebastian Rodríguez (Brazilian JiuJitsu) and Yokasta Valle (Boxing). "And the first people who inspired me and set an example from day one of how to be a martial artist are my Athletic Advance teachers.Internationally, also the athlete admires great sports figures such as: Tom Brady, Kobe Bryant, Alexander Volkanoski, Michael Jordan, Rafael Nadal, for the mental strength and tenacity that they always maintain.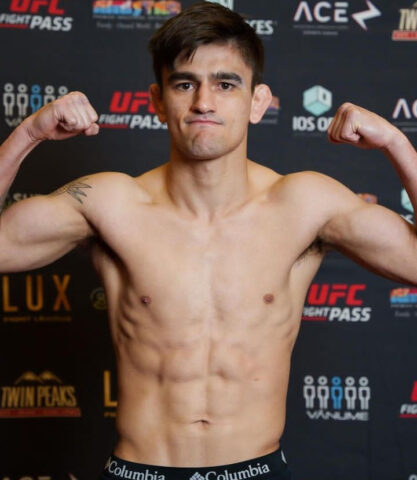 Finally, André as a Tico, as an athlete who fights, pursues his dreams, expressed to the citizens of the world "Never give up on the things you really want and are passionate about (work, study, relationships), because when you want to give up the most is when you have to put more desire. Work for your dreams and do what you are passionate about".