Costa Rica receives thousands of tourists from different parts of the world every day. This responds, among other facts, to the great biodiversity of its territory and its 1,228 kilometers of coasts in the Caribbean Sea and the Pacific Ocean. These facts, as well as its exuberance and rich culture, make this country be a delight to explore. If you still have not come to this wonderful country, but you have thought about doing so in your next vacation, here we offer you a basic guide to read before traveling, so that you can make the most of your experience: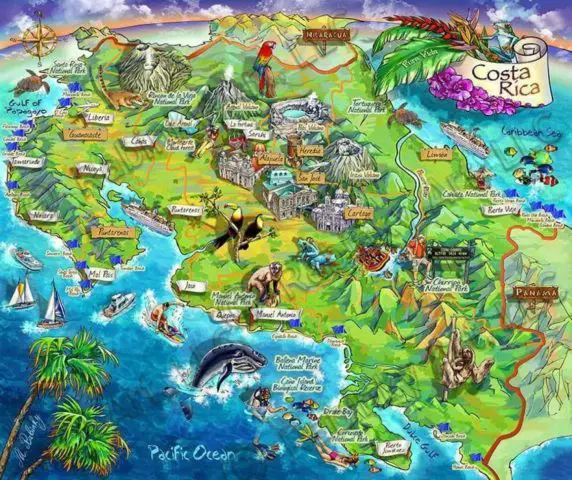 The Republic of Costa Rica is located in Central America. It has a territory with a total area of 51,100 km². It borders Nicaragua to the north, the Caribbean Sea to the east, Panama to the southeast and the Pacific Ocean to the west.
Its capital is San José, currently considered one of the most cosmopolitan cities in Latin America.
The currency is the Costa Rican Colón (¢). Despite this, being a tourist country, some businesses also receive the American Dollar (US$) as a form of payment.
It has 2 seasons a year: the rainy season, that starts at the beginning of May and ends at the end of November; and the dry season, that starts in December and ends at the end of April. The dry season is the ideal time of year to visit the coasts of Costa Rica.
Being a territory of great environmental diversity, far and wide you can find paradisiacal beaches, impressive volcanoes, imposing mountains, waterfalls and dazzling rivers, virgin forests, and much more.
Costa Rica does not have an army.
Its gastronomy is very rich and varied. In restaurants and "sodas" you cannot miss enjoying a delicious "Gallo Pinto" prepared with rice and beans. You are going to love it!
Electricity in Costa Rica is 110 Volts. It is also advisable to travel with an AC adapter.
Telephone lines are cheap for tourists. If you want to save money on calls, you can buy one. The telephone prefix is +506.
Emergency Phones are 911 (emergency), 117 (police), and 128 (ambulance). Tourist information: 192.
Tourists from any country in the world require round-trip tickets, valid passport (minimum 6 months) and economic solvency accreditation for US$ 100.00 per month of tourism.
In your suitcase do not miss putting in: sweater and waterproof coat, sports shoes and sandals for the beach, comfortable clothes, swimsuit and insect repellent.

Enjoying the "Pura Vida" Style

So take your precautions and enjoy your trip to the fullest. Once you arrive in Costa Rica, you will understand why it is the "Pure Life" country.