One of the favorite destinations and that becomes a mandatory visit for all tourists, is the capital of the country: San José. In it, you will find the main cultural attractions of the nation and also hidden sites that distinguish it from the rest of the nation.
This magnificent capital city, located in the region of the Central Valley, is the most important political, economic, and social center of the Costa Rican territory. It was founded in 1737 and, today, it has become a great city in continuous expansion.
With an extension of 4,462 km² and an elevation of 1,300 meters above sea level, it is the largest city in this wonderful Central American country. As if that were not enough, San José is currently considered one of the most cosmopolitan cities in Latin America.
It is a bustling city located within a tropical paradise and has a central location that allows you to be surrounded by beautiful virgin cloud forests. In addition to that, it plays the role of "starting point" for the thousands of tourists who want to meet all of the country.
By walking through the city, visitors and residents can find a lot of wonderful museums, unique restaurants, shopping centers, colorful markets, bars and, of course, a great nightlife.
A characteristic that distinguishes it is its Spanish colonial buildings. The National Theater of Costa Rica, the Plaza de la Cultura, the Central Market, the Museum of Contemporary Art, La Sabana Metropolitan Park, and the National Handcraft Market are some of the great attractions that nobody can miss.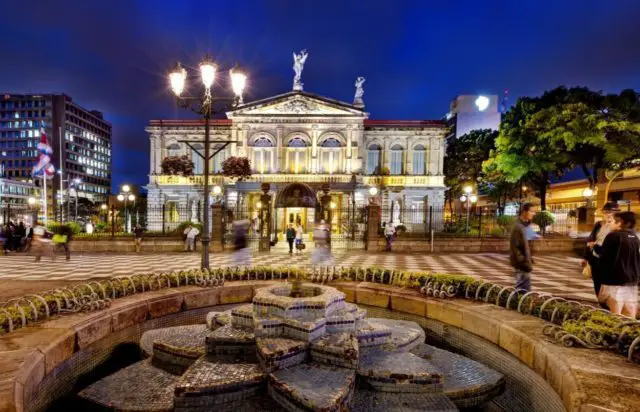 If you want to marvel at its gastronomy, then you can enjoy small restaurants called "sodas" that serve homemade food and local seafood. On the other hand, you should know that the most popular destinations for nightlife are in the neighborhoods of San Pedro and La California, both close to the University of Costa Rica. However, there are many more options that you will find according to your tastes and preferences.
Transportation within the city is not a problem. San José has the Juan Santamaría International Airport, considered one of the best airports not only in Central America but in the world. In addition, the city has a large number of ecotourism companies; car rentals, bus and taxi lines, travel agencies, among others.
Restaurants, luxury and low-cost hotels, many plazas, and outdoor parks are also scattered among its streets and avenues. Its downtown is quite small but, at the same time, it is one of the most frequented places in the city. By the way, an excellent option is to visit it as a pedestrian.
In sum, Costa Rica hides wonderful places that you cannot miss, and San José is definitely one of them. It will be an experience you will never forget. Now, go into the "Pure Life" style!