Either for a vacation or just a weekend family trip, it is always good to know where we can go with our kids without spending a lot of money, and even most important, discover places that they will enjoy and at the same time learn something while having fun.
Costa Rica has many places for all the family to enjoy, so take a look at these multiples options our country has to offer without getting too far away from home.
Cartago
Laguna Manuel: On the top of the road to San Gerardo de Dota, this beautiful place is ideal for a lakeside picnic and watch the sunset before returning home.
Parque Nacional Tapantí: Why not go and explore a forest, watch nature at its best and fill your lungs with pure air. Take a quiet walk and then enjoy a waterfront outdoor lunch? You can live this experience in this park either by yourself or better yet, bring along the whole family to have one fine day.

Welcome to Tapantí National Park!

Bosque de Prusia: This place is not an ordinary forest; instead it is filled with huge eucalypt trees, so a picnic in this unique setting will be an unforgettable experience.
La Ventolera: Located very close to San Jose city, this place has the best central valley view, with many options for enjoying the outdoors, like picnics, flying kites or just coming in contact with nature.
Iztarú: This place in San Jose, besides being the boy scouts meeting grounds, is also a huge natural playground full of camping areas, and nature trails, all within the metropolitan area.
Minas de Aguacate: Here, you can find a group of waterfalls with deep natural ponds surrounded by huge stones. Bring the kids to cool up on a hot day or just to hang out anytime.
Los Chorros: In Grecia, with unique nature trails for hiking and discovering beautiful waterfalls. An ideal site to go out and explore.

A father and his daughter enjoying Los Chorros
Territorio Zaguates: Here there exists a dog adoption center. Children love coming to this place and maybe establishing a long-term friendship with a new pet.
Bosque Caricias: Located in the San Isidro de Heredia Mountains, this area is full of adventures with nature trails and a picnic area for spending unhurried time.
Playa Manzanillo, Uva y Bonita: This place is filled with small hidden beaches, making it ideal when planning weekend escapes and getting to explore them one by one, guaranteeing yourself all the time you want of pure bliss. Do not forget to tell your kids to bring their beach toys!
Tortuguero: A great variety of wild animals whose natural habitat are the Tortuguero canals, offers a world of possibilities to explore and discover with your kids, that besides having fun will learn about nature.
Cañón de la Vieja: This open-air amusement park, located between Liberia and El Rincón de la Vieja offers a variety of activities for the enjoyment of all the family, regardless of age, so that bringing along all the family will be a total success.
Playas de la Cruz: The calm waters of the beaches located in the Pacific north, offer besides beautiful sites and wonderful sunsets, places for the amusement of all the family. The only recommendation is to bring a big umbrella to shield the strong sun rays.
San Juanillo: This beach considered a tropical Paradise, is full of places to be explored harmlessly by children, who will feel that they are marine biologists on a scientific exploration. And for the even smaller ones, there is a safe and fun saltwater pool.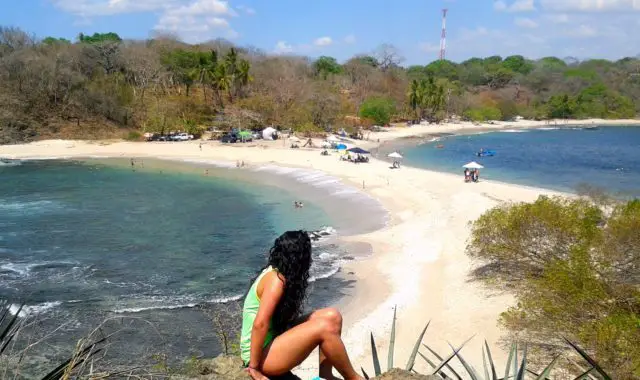 Playa Minas: Here, Mother Nature is very generous with its visitors. Having crystal clear and calmer waters, this beach is surrounded by lush vegetation that will protect you from the sun, so all you will need to worry about is how to have fun. Arriving here is easy. Located between Tamarindo and Conchal, you just cannot miss it.
Maybe we missed out on some other amazing places that Costa Rica has to offer for all the family to enjoy. But you can begin your adventures with these recommended sites and gradually discover all the hidden treasures out there.