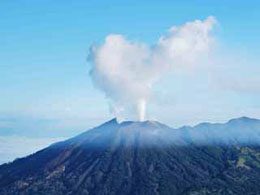 by TCRN Staff

The Turrialba volcano is going back to its previous classification as "passive degassing", which is the state it was in before it began to throw up ash in early January.
That's the conclusion that both the Volcanological and Seismological Observatory of Costa Rica (OVSICORI), National University, and the National Seismological Network (RSN), University of Costa Rica came to this past week.
Both entities have determined that the volcano has stopped throwing the large amounts of gases and ash, as it has been since the 5th of January.
However, Javier Pacheco, OVSICORI seismologist said that, despite the fact that Turrialba volcanic intensity has decreased, it is still causing tremors of low intensity.
Raul Mora, volcanologist of the RSN, came to a similar conclusion: "At least in external signs, the volcano has been much more 'calm', but inwardly the same amount of activity remains, although it is within normal parameters."
The OVSICORI, meanwhile, reported that its staff will go and observe Turrialba two to three times a week, specifically for measuring and evaluating the volcano gases.