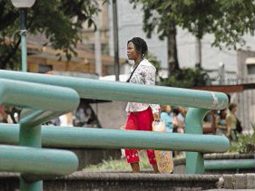 by TCRN Staff

The UN High Commissioner for Refugees (UNHCR) asked the Department of Migration to process work permits for Haitians living illegally in Costa Rica.
This proposal aims to allow these foreigners to obtain income and send remittances home, which was hit by an earthquake measuring 7.3 degrees on the Richter scale on January 12th.
It is believed that the death toll exceeds 200,000. The major cities are still in ruins. Despite all this, the country is beginning to recover: hence the importance, according to representatives of UNHCR, that money to injected into the economy.
Jozef Merkx, High Commissioner's representative in Costa Rica, said he aims to provide temporary protected status to Haitians.
In Costa Rica there are 34 Haitian with refugee status. This status is normally assigned to persons who are persecuted because of race, religion or nationality, membership in a particular social group or political opinion.
"A natural disaster is not considered within the protection afforded by being a refugee, and for this we must look for other ways to help," he said.
Data show the direction of migration in Costa Rica is approximately 280 Haitians, of which about 80 are in illegal status.
Mario Zamora, director of Migration, said the majority of Haitians who have no residence in the country, are concentrated in the central town of San Jose, working in street trading.
According to Zamora, before considering such specific aid there must first be standardized communication flow and diplomatic relations between both nations.
"Many people do not know the fate of their relatives and have been unable to communicate with them, in addition, the Costa Rican consulate in Haiti collapsed. We expect that normal channels are open," said Zamora.