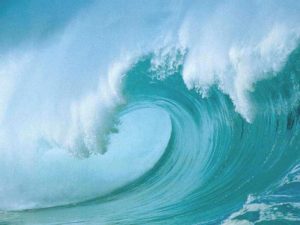 by TCRN Staff

The National Emergency Commission (CNE) yesterday established a green alert for the Pacific Ocean coast as there will be some of the highest tides in the last five years.
Rebeca Morera, an official of the National Meteorological Institute said the waves could exceed three meters from today, Sunday, and that levels will remain high until Thursday, February 4.
TIP: Get updates on upcoming Costa Rican Retreats & Events by joining our newsletter. Don't miss out on what's happening around you! Click here.
Presumably, the highest day of waves will be Tuesday Feb. 2, so surfers prepare!
Morera said the El Nino phenomenon is in its warmer period and that this contributes to increased sea level.
According to the meteorologist, temperatures in the Pacific have reached 29 ° and 30 ° Celsius.
Morera recommended both small vessels and bathers take preventive measures. Meanwhile, the CNE suggested Pacific vacationers avoid the mouths of rivers.
The sites that could see flooding in Guanacaste are Cuajiniquil, Junquillal, Nosara and Samara. In Puntarenas, the areas at risk of flooding are Barrio El Carmen, the market for Puntarenas, Caldera, Playa Azul (Tárcoles River mouth), Playa Hermosa, Palo Seco Beach Bejuco, Damas Island and Quepos.