In the life of every human being, disability are not usually limiting as many believe. The United Nations (UN) estimates that approximately 10% of the world's population, or 650 million people live with a disability.
In most Organization for Economic Co-operation and Development (OECD) countries, women are reported to have a higher incidence of disabilities than men. In fact, it is recognized that women with disabilities experience multiple disadvantages, being subject to exclusion due to their gender and disability.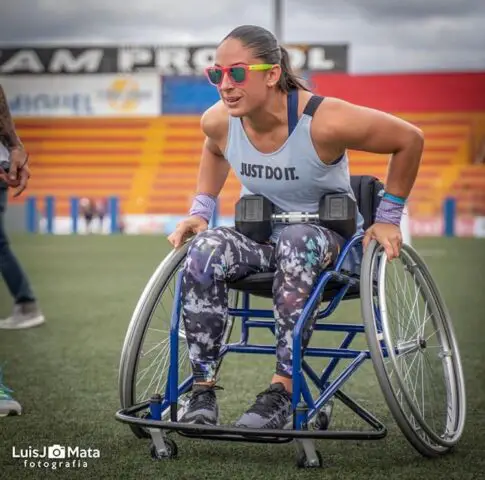 From The Costa Rica News, we spoke with an extraordinary Tica, which makes a difference in what the UN reports, since her disability has not prevented from achieving so much success in the national and international sports world.
We are talking about Amalia Ortuño, a native of San José, who lived in Turrialba as a child, then returned to live in Curridabat and currently resides in Santa Ana, Costa Rica.
An Adapted CrossFit athlete, because she has a birth problem in her hips, it is a degenerative disease that is diagnosed in young adulthood. At the age of 28 she had an additional complication and suffered neurological damage in the left leg.
However, these conditions have not been an obstacle to pursue her dreams, and already has 8 international championships, that is to say, 8 Gold Medals, included in: 3 world championships, the title of athlete "Fittest on earth" (greatest Crossfit title), 3 Wodapalooza Championships (second largest competition in the world on crossfit) and champion of Wodcelona (Europe's largest adapted competition).
Recently, she was at the Wodapalooza 2022 Fitness Festival for the third time and tells about the success there, "it was tough competition, especially emotionally. 3 months ago I had to undergo major emergency abdominal surgery for some tumors, I had to rest for 2 months and obviously many doubts and fears appeared, that if I was going to be able to compete, also if I was going to achieve the objective of this competition and if I was going to arrive physically well. But luckily, with a lot of hard work, both mentally and physically,I achieved what was proposed". At the recent Wodapalooza Fitness Festival, she was crowned three-time world champion.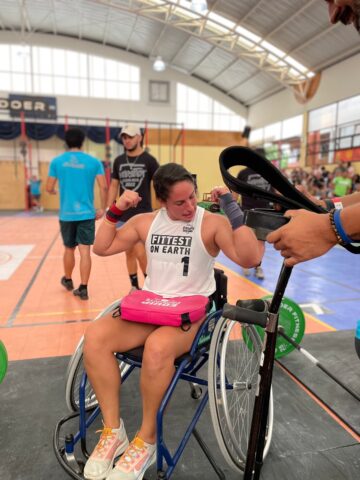 It is always interesting to learn more about each admirable citizen, their roots, their projects or goals.Precisely, Amalia remembered her parents, a particular phrase from her mother "be careful what you want, because you will get it", they have always accompanied her and have motivated to fight for her dreams.
About what inspires her about Costa Rica?
Ortuno referred to the love of the people, "the support I have received despite practicing an unconventional sport. All that love makes it worthwhile, despite the difficulties in being able to practice it and develop as an athlete, and motivated me to keep going."
Is there another professional career in Amalia's life?
The champion Amalia Ortuño, considers that professionally she has two jobs. Mainly, her passion, which is sport, "is the one that keeps me awake, I am passionate about, but the one that has cost me the most to develop due to the little financial support and the high cost that it entails." Then she told us, that she is also an interior designer, "bringing out my artistic side, has made me grow professionally, I have my own company and this helps me to be able to fulfill my sporting achievements (in terms of the economic support)". In her opinion, both have managed to complement each other very well and have the desired success.
About her training and eating routine
Amalia trains every day, double sessions: at 6 am and 4:30 pm, except on Sundays, which is her rest day. Regarding food, she has a plan with a specialist (nutritionist) that varies depending on the season and the skills to develop. In general, it is a balanced eating plan and healthy, lots of protein, carbohydrates, fruits and vegetables.
Difficult situations and how have she dealt with them?
For Ortuño, there are two main difficult situations that she has been able to face, one of them is financial support to develop the sport. "In order for me to compete, I have to leave the country constantly, since the competitions are all international. Although I currently have the support of a private company to cover a part of my expenses, there are many of them that still remain outside my budget and I must find a way to cover them. This makes it quite difficult at times to buy equipment for training and attend scrimmages to be better prepared."
There is a second situation according to Amalia's opinion, the infrastructure. "Many sports and recreation venues are not designed for wheelchairs, and that's one of the main reasons why there aren't as many opportunities for athletes with disabilities."
Character she admires
The character that the Adapted CrossFit athlete admires is Claire Toomey, because "she is the fittest woman in the world in Crossfit (Elite category without disabilities)". Claire has a mentality which makes her unstoppable, "I have tried to follow that example and work hard on the mental part to physically achieve many things," she said.
Any project for this 2023?
Two ideas, one that although she doesn't know if it can be developed because it means a large investment of money is to make adapted sports known in Latin America."
Amalia's concern is that she has noticed doubts from people of other Spanish-speaking countries who follow her since she practices Adapted CrossFit, which she would love to be able to go to different countries to compete and leave that "grain of sand" planted so that more people can practice it and know how beautiful it is.
Another projection is to educate people who do not have any disabilities a little more about the "needs" that we all have. "Educate people to respect the spaces designated for us, things that we can do that people think we can't, and show that we are truly all the same, we can achieve the same goals and also enjoy the same places, activities, among other things".
Within the sport, Amalia Ortuño wants and keeps working to compete in person at the Crossfit Games; For different organizational reasons, its category (seated w/hip function) has not been included to compete in person, only virtual. In theory next year 2024, they will be able to compete in person. And about what she considers about what else to achieve? Is to create a foundation or group to open more opportunities for athletes with disabilities so that they can develop as it should.
Finally, Amalia, expressed a message for her followers and TCRN users, "If someone tells you that you cannot do something, that is not your limitation, it is that of that other person. Fight for your dreams, work hard for them and with dedication, passion and a lot of desire, you will achieve what you set out to do". Grateful to be able to show details from the life of a champion, Costa Rican pride that has a lot to offer, an example for people with and without disabilities.