The Guayabo National Monument is a protected area of the country, it is known as one of the oldest and most important pre-Hispanic archaeological sites in the country.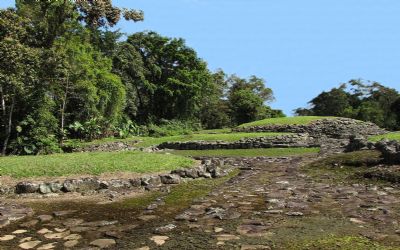 National Guayabo Monument
The Guayabo National Monument became, since 2009, "A World Heritage Site" according to UNESCO. Although there are different theories about the beginning of the population that founded and occupied the town, most of them say that it was occupied between the year 1000 and 1400 AD, and it is estimated that there were villages in its surroundings that in total housed approximately 2,000 to 10,000 people. There is also evidence that the site was inhabited 2,500 years ago, but that its boom was during the 500 year period from 1200 to 700 A.D., both culturally and politically.
A mystery thousands of years old awaits its discovery in the Central Valley. The Guayabo National Monument, just north of the city of Turrialba, is located on the lush hillside of the active Turrialba Volcano. Opportunities to explore the monument include guided tours, educational visits, camping, and the butterfly garden.
People who visit the monument will find the largest pre-Columbian ruins that have been discovered in the country up to date: a large city founded around 800 AD. Archaeologists believe that this place was populated from 1000 to 1400 AD. Without any known reason, the city that they believe was a key regional center for politics, culture, and religion suddenly became a desolate landscape.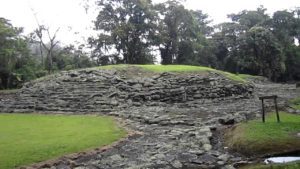 During your visit, you can explore the infrastructure of the city and discover petroglyphs and tombs that were discovered by archaeologists in 1968. The invaluable artifacts found during the excavation have found a permanent home in the National Museum located in the capital San José.
There are even more ruins to be excavated in the location of the monument that is surrounded by lush jungle. The fertile environment hosts a wide variety of birds, such as toucans, as well as armadillos, squirrels, and coats. Basic services for visitors, including restrooms, are available at an on-site ranger station.
In total the archaeological area has 232 hectares, of which only a small part of them has been excavated. In this area, there are different archaeological features such as mounds, stairways, causeways, open and closed aqueducts, water storage tanks, tombs, petroglyphs, monoliths, and sculptures. In the central area of the monument, there are different mounds or stone plinths, which generally have a circular base of different sizes and are from 0.5 to 4.5 m in height, with a diameter of 10 to 30 m.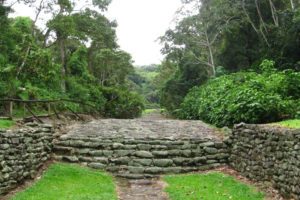 Among its vegetation in the archaeological area, there is the characteristic pre-montane rain forest and is composed of a dense and green foliage. There are many forest species such as caragra, magnolia, Camarillo, higuerón, quizarrá, cirrí, burío and cedar, covered by a large number of epiphytic plants such as brómelas and orchids.
Among the fauna that is present are birds such as toucan, oriole, trogon, carpenter, momoto, piapia, yigüirro and chachalaca and also some small mammals like armadillo, rabbit, coyote, sloth, tolomuco, chipmunk and pizote. In addition to a variety of insects and some reptiles typical of the area such as snake, frog, and lizards.
 C

ome and visit!
No need for publicity, every day increases the amount of tourism, attracted by the scenic beauty of this place but mainly by the halo of mystery in the midst of archaeological research, which is arduously carried out by the archaeologists of the Ministry of Environment as well as the National Museum and the universities in the country in some cases supported by prestigious universities in Europe and the United States.
Many people assure the feeling that Guayabo is an energetic and powerful center with special characteristics, which is added to the cultural archaeological value, plus the fact that it has been declared a World Heritage Site, making the Monument an attractive tourist attraction.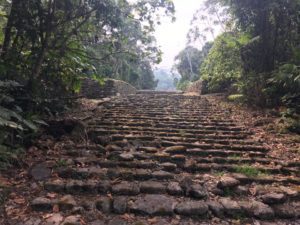 Given these conditions of growing demand for services, the Guayabo administration, which is in charge of the Central Volcanic Mountain Conservation Area, is implementing infrastructure that allows ecotourism oriented towards environmental, archaeological and heritage education, providing visitor facilities but minimizing the environmental and archaeological impact, including universal accessibility and other characteristics such as viewpoints, rest areas, visitors center, services, training rooms, reception, trails, interpretation bays, among others.
In general, Guayabo offers adventures that will surely intrigue and delight all family members that come. The Central Valley of Costa Rica offers a varied selection of activities that range from ecological to cultural. The Guayabo National Monument's mystery may not be resolved soon, but you can spend your vacations relaxing while exploring the rich landscape, observing exotic animals that live in complete freedom, and enjoying the rich cultural tapestry that is Costa Rica.