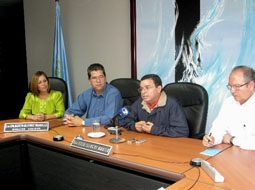 by IRENE VIZCAÍNO
The conflict between the CCSS and medical residents is worsening after yesterday when other medical professionals decided to join the movement and make their own demands.
TIP: Get our latest content by joining our newsletter. Don't miss out on news that matter in Costa Rica. Click here.
At the end of an extraordinary meeting, representatives of the National Medical Union (NCU) and the National Union of Medical Specialists (Sinama) developed a list of demands on equipment and working conditions.
For seven days the resident doctors have remained on strike to demand the elimination of so-called learning agreement, which obliges them to sign a promissory note for ¢ 32 million if they decide to pursue a specialty.
"There needs to be an assessment of the Caja or the contract with the residents, but that is only a part, the Assembly agreed on a list of demands on equipment and working conditions," said Oscar Sinama President Uribe.
Although the NCU and Sinama called for its members to join the strike, a new assembly will be held on Tuesday, when you can detail your need and decide if you want to join the movement and add pressure.
If unresolved, thousands of patients could be left without attention, especially those with secured appointments in specialties may be waiting many months.
"When these movements occur, it is assumed that all that are emergencies and health alerts, such as dengue or A1N1 have priority. Which unfortunately gets the query and selective operation,"acknowledged Alexis Castillo, of the NCU.
Translation and editing by TCRN Staff