More than 340 kilometers from the Central Valley, in a corner of Altamira de Biolley (Buenos Aires, Puntarenas), drums and maracas are played, dedicated to the Sun, in an event that tries to exalt the indigenous roots of the Costa Rican people. It is the "Festival del Sol" in Costa Rica, which has been celebrated for 16 years in the first months of the year.
Francisco 'Pancho' Quesada, an artist, environmentalist, and scientist from this area is in charge of organizing it. To get to the event, in a land owned by Quesada with more than 6 hectares, from San José, you have to drive for more than 6 hours, go through rivers and climb hills.
Every year, more than 300 people arrive and it lasts 24 hours without breaks. The objective is to reconnect with oneself and with the Earth. "We promote the message that there is another way of living. It is not only liquor, television, soccer. The objective is to break that circle", said the organizer.
UNIVERSITY traveled to Puntarenas to be part of the last edition of the Festival del Sol, and to portray the way of conviviality of this enigmatic festival.
The Festival begins with a "communal Jam", with the aim of bringing together the communities that come to the event, including Ngäbe, an indigenous people that live between the border of Costa Rica and Panama, and the Borucas, aborigines of the area.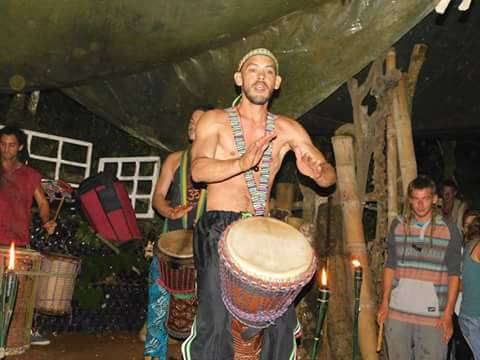 The food that is commercialized in the Festival is, in its majority, elaborated and harvested in the same land of Quesada. The event does not promote or recommend consuming commercial alcohol. However, they sell drinks like the girl, traditional indigenous.
As part of the festival dance workshops, parkour, theater, and indigenous handicrafts are held, given by attendees of the event. Quesada expresses that one of the objectives is to eliminate "elitism". Therefore, he affirms that all "must be at the same level". "Guest artists, instructors, the people who camp, the beautiful thing is to think about being camping and those who are in the tent of the pair are the ones who were on the platform at night. There are no differences here", he says.
The Festival sells several products of artisans who live near the area, as well as foreigners can also sell their own products.