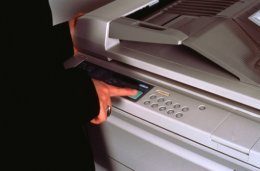 by TCRN Staff
This morning a group of students and representatives of photocopiers appeared at the Legislative Assembly to demand the reformation of the new intellectual property law, to make an exception to the rules which prevent photocopying of educational books.
TIP: Get our latest content by joining our newsletter. Don't miss out on news that matter in Costa Rica. Click here.
The movement "photocopied for study,"  gave a press conference where they made their complaint public because of the rigidity of the law to protect intellectual property rights.
The reform that protects and punishes the photocopying was adopted in the framework of the implementation agenda of the Free Trade Agreement (FTA) with America, Central America and Dominican Republic in 2008.
"Our movement housed for the convening of the proposed 17,342, reforming intellectual property law, to make an exception in the law to protect students and photocopies provider," said Paul Orozco, a spokesman for the movement .
The plan submitted by the Broad Front Party lawmaker, Jose Merino, is among the plans outlined to President-elect Laura Chinchilla, to take into consideration in Congress, recalled the deputy elected by the FARC José María Villalta.
"The meeting we had with Laura Chinchilla, she said she was ready to convene the project, and told us that one should not limit access to photocopying.
However, the project is not yet convened by the current government," Chinchilla said.