For 16 years, the La Paz Community School has been developing an innovative, humanistic educational proposal in Guanacaste, strongly committed to the well-being and development of the communities in which it is involved.
The institution proposes an inclusive and diverse learning experience, in which all cultures and socioeconomic levels have the opportunity to live and learn together. "In our school, boys and girls come together to learn to be global, creative, multilingual, compassionate and responsible leaders," said MélidaLuconi, Coordinator of Ruta La Paz.
Currently, La Paz receives 620 students (from early childhood to 12th grade) at its campuses in CaboVelas (Santa Cruz) and Tempisque (Comunidad, Carrillo); and has benefited with its scholarship program more than 100 boys and girls between the ages of 5 and 18 from more than 50 Guanacaste communities (Sardinal, Brasilito, Comunidad Nuevo Colón, Obandito, CañasDulces, Lomas de Matapalo, Potrero, Portegolpe, Cartagena and GaritaVieja, among others).
To continue amplifying this positive impact, La Paz has the support of parents, friends, companies and foundations, both local and foreign, who contribute to the financing of its scholarship program. The scholarship program is one of the axes to fulfill the objective of increasing the collective social capital of the communities of Guanacaste, through education.
5km beach race
"Within the framework for this ecosystem of construction of our mission, since 2011 we have carried out Ruta La Paz, a 5km beach race, which aims to collect funds for the scholarship program of the La Paz Community School," explained Luconi.
This race has been gaining recognition every year and in 2023 it will take place through two routes: the first on Saturday May 13 in Playa Hermosa and the second on Sunday May 14 in Playa Potrero, both at 4pm. Registration is open to adults and children from 7 years old, it costs US$25 (1 race) and US$40 (2 races).
The winners will have prizes such as hotel nights, yacht tours and restaurant dinners, among others.
"From the La Paz school we invite people from all over the country to support our cause to offer more diverse and inclusive educational opportunities to girls and boys from the communities of Guanacaste. Ruta La Paz is a unique and unforgettable family space, focused on sports and community collaboration", commented Luconi.
Those who cannot participate in the races also have the opportunity to support the scholarship program, since the platform to receive donations is open throughout the year, through a website or through mobile SINPE on the phone 8895 2729.
High impact scholarships
La Paz School is a non-profit organization. The scholarship program is financed by private donors, mainly in Costa Rica and the United States, who know and believe in it. "The funds raised in the race correspond to approximately 20% of the total we need per year," said MélidaLuconi.
From the start of the initiative until now, Ruta La Paz has raised more than US$250,000. The goal for this year is US$150,000 and hopes to benefit the 84 current students of the program, in addition to opening new admission slots. "The investment made per student is approximately US$10,000 per year," said the spokeswoman. The institution estimates that the program will grow by 15% compared to last year.
La Paz scholarships cover a wide range of needs to provide comprehensive care to the student and their family. It includes services such as transportation, home visits, workshops for parents or guardians to share topics of interest (parenting, positive discipline, attachment, etc.), extracurricular programs (sports, art, etc.), connectivity at home, and special services. "Currently, families from 50 communities benefit (25 for each location) and the goal is always to reach more," explained Luconi.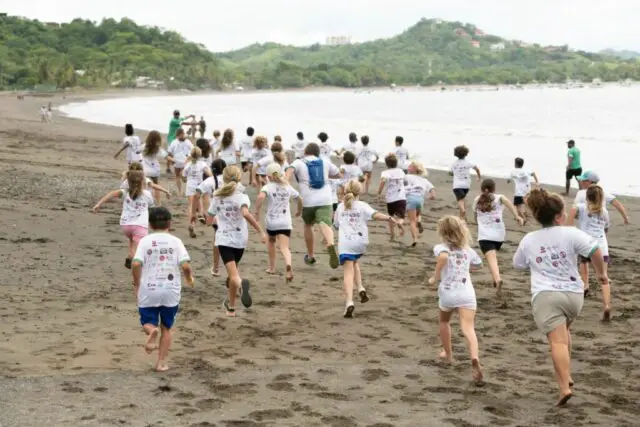 The voice of the beneficiaries
From the perspective of the beneficiary families, the education experience in La Paz is transcendent. "For us, the program was a very good experience as a family. It allowed my son and daughters to have a better education, and thus be able to dream and achieve professional and intellectual achievements, and for them -as people- before society," commented Olga Duarte Gómez, a resident of Huacas and mother ofJoustinneJosuéUreña Duarte (23), Melanie Ureña Duarte (21) and Emily Gabriela Contreras Duarte (18), student beneficiaries of the program.
Beyond the impact on the progress of the family nucleus, the educational system in La Paz also makes a difference at the individual level. "In this school it is not about how much you memorize but about the analytical capacity that you achieve. In addition, in La Paz, a higher level of awareness is also acquired on issues such as the ecosystem and social good, which allow us to have a broader ethic," said JoustinneUreña Duarte, who graduated in 2018 and today works in an accounting firm.
Melanie Ureña Duarte is 20 years old, graduated from La Paz in 2020 and is currently studying at the University of Costa Rica. "In La Paz I grew up in a very diverse and open-minded environment, I was able to learn English and even get to know another country. Once I graduated, it was very easy for me to integrate into the university since the training I had at school was very good, both in terms of the national and international baccalaureate", he explained.
Converting its students "into reflective, creative and active administrators in their environment and future leaders of the world" is the aspiration declared by the founders of the La Paz Community School. When they started the project in 2007, a dream guided them: to create an educational paradigm that challenges intercultural discourse, in order to equip students so that they can fundamentally transform their own lives; then their communities and nations and finally the world, to make it a better place.
La Ruta de la Paz, at each step, with each run, is fulfilling its dream and challenging its goals.