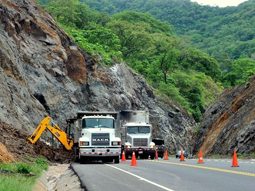 by ALONSO MATA B
Boulders up to one meter in diameter fell this weekend on the new San José-Caldera highway due to heavy rains.
TIP: Get our latest content by joining our newsletter. Don't miss out on news that matter in Costa Rica. Click here.
Landslides left three people injured, who had to be transferred to medical facilities.
In addition, debris and rocks on the road caused damage to several cars and forced the road to close from 6 pm to 11:50 pm on Staurday.
Most of the landslides were concentrated on "road sector II" (Ciudad Colón-Orotina).
Highways of the Sun, the builders of the road, said through a press release that the setbacks were dealt with quickly.
They also stated that since January they have been working on strengthening the banks to mitigate the effects of landslides.
Claudio Pacheco, head of the Preservation of Highways of the Sun, stated that machinery was used to quickly remove material and install interim detour signaling devices to ensure user safety.
However, a team from La Nacion , noted in a tour they made yesterday at 5 am, that several landslides were on the road and even a few overturned vehicles, one with loose front bumper and two more with a blown tire.
Translation and editing by TCRN staff.