Coffee is one of the most popular beverages consumed worldwide. Many people rely on it to kickstart their day or stay alert throughout the day. However, like any other substance, coffee has its advantages and disadvantages. In this essay, we will explore the pros and cons of drinking coffee on a daily basis.
Pros of Drinking Coffee Everyday:
1. Increased alertness and concentration: Coffee contains caffeine, a natural stimulant that can help increase alertness and improve cognitive function. It has been shown to enhance concentration and boost productivity, making it an ideal drink for mental tasks or studying.
2. Enhanced physical performance: Coffee has been linked to improved physical performance. Caffeine stimulates the central nervous system, which can increase endurance and reduce fatigue. This makes it beneficial for athletes or individuals engaging in physical activities.
3. Antioxidant properties: Coffee is rich in antioxidants, which can help protect the body against damage caused by free radicals. These antioxidants have been associated with a lower risk of developing certain diseases, including Parkinson's disease, type 2 diabetes, and certain types of cancer.
4. Improved mood and mental well-being: Consuming coffee has been linked to an improved mood and reduced risk of depression. The caffeine in coffee stimulates the release of neurotransmitters such as serotonin, dopamine, and noradrenaline, which are known to enhance mood and promote a sense of well-being.
5. Lowered risk of certain diseases: Research suggests that regular coffee consumption may reduce the risk of developing certain diseases, such as liver disease, Alzheimer's disease, and certain types of cancer. However, it's important to note that these benefits are often associated with moderate coffee consumption.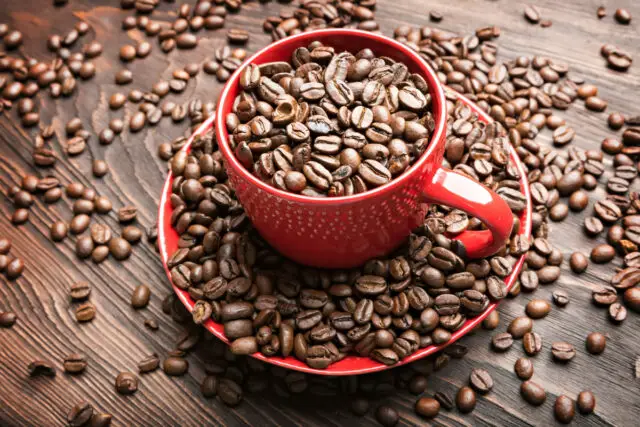 Cons of Drinking Coffee Everyday:
1. Increased heart rate and blood pressure: Coffee is known to temporarily raise heart rate and blood pressure due to its caffeine content. While this effect is usually transient and harmless for most healthy individuals, those with existing cardiovascular conditions may need to limit their coffee intake or opt for decaffeinated alternatives.
2. Disruption of sleep patterns: Drinking coffee too close to bedtime can interfere with sleep patterns. Caffeine is a stimulant that can keep you awake and reduce the quality of your sleep. It's recommended to avoid consuming coffee at least 6 hours before bedtime to ensure a restful night's sleep.
3. Dependency and withdrawal symptoms: Regular consumption of coffee can lead to dependence on caffeine. If someone consumes high amounts of coffee daily and suddenly stops, they may experience withdrawal symptoms such as headaches, irritability, and fatigue. It's important to consume coffee in moderation and gradually reduce intake if desired.
4. Stomach irritation and digestive issues: Coffee can have a stimulating effect on the digestive system, leading to increased gastric acid production and potential irritation of the stomach lining. Some individuals may experience acid reflux, heartburn, or other gastrointestinal issues as a result of regular coffee consumption.
5. Staining of teeth: Coffee is one of the leading causes of tooth discoloration due to its dark color and high tannin content. With regular consumption, the enamel can become stained. Regular dental care and proper oral hygiene can help minimize this effect.
Drinking coffee everyday has both pros and cons. While it can enhance alertness, improve mood, and provide potential health benefits, it is important to be mindful of its potential negative effects. Moderation is key when it comes to caffeine consumption, and individuals should consider their health status and lifestyle before making coffee a daily habit. As with any dietary choice, it's always best to consult with a healthcare professional for personalized advice.