At the end of 2022, it was learned about the achievement of Mariela Baltodano, who won the Voice Arts Awards in the category "Best Voice in Corporate Demo" in English, an award she obtained at the Warner Bros. studios, located in Los Angeles, California.
It should be noted that the Voice Arts Awards are the works of both interpreters and professionals whose design, produce and act are recognized, taking into account the importance of their voice. They are the most important in the United States in what has to do with locution and dubbing. Her voice has worked with recognized brands of the world: CocaCola, Toyota, Visa, Nescafé and Amazon.
Mariela is from San José, Costa Rica. She recalls having a beautiful and unforgettable childhood with her brothers. She remembered their love for telling stories, specifically before going to sleep, they read them aloud and imagined doing interviews with the recorder that belonged to their mother. She loved learning and expressing poems, tongue twisters and recitations.
Regarding the teachings of her parents and which ones she currently puts into practice, Baltodanosaid that they always taught her to follow a star, to look for what gave happiness and filled hearts. "They gave me the opportunity to dream big, to follow my passion. Another of the teachings that I keep in mind every day was to listen to my instincts and trust them. Professionally, these teachings have helped me create my own way".
What inspires her about Costa Rica?
Mariela deeply loves the place where she was born, her country which, in her opinion, has managed to position itself on the world map. Its people inspire her a lot: hard-working, warm, innovative, kind; loving the authentic nature of Costa Rica, its landscapes, its diversity in flora and fauna; and efforts to protect the environment.
Any Costa Rican or international character that she admires?
Mariela spoke about those she admires, of course her colleagues "who with their effort and work have opened paths to professionalize the voiceover industry, with the awareness that as a community we can achieve our goals more easily. In Costa Rica the Association of Voice Professionals (APROVOZ), and in the United States, the Society of Voice Arts and Sciences (SOVAS)".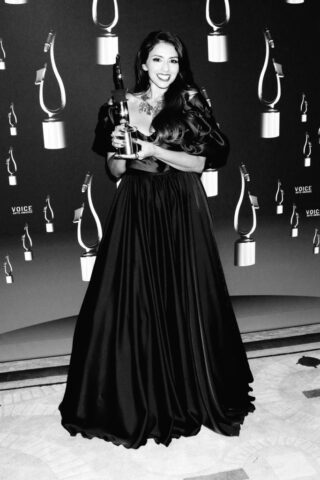 Professional training and trajectory
In our conversation with Mariela, we wanted to expand more on who she is, what she feels, what she longs for, much more about her career,learning that she is a professional actress and presenter, graduated from the School of Dramatic Arts of the University of Costa Rica. Today, she works in commercial and corporate voice overs, for e-learning, telephone exchanges, audiobooks, animation and dubbing in Spanish, English and French. She has demonstrated her talent with brands and institutions in the United States, Canada, Latin America, Spain and France.
Her voice has been awarded in Latin American such as the 2021 Lavat Awards. She has been nominated at the 2020 Lavat Awards and at the Voice Arts Awards in 2021 and 2022, on the latter occasion, in the English category: Outstanding Narrative Demo, corporate style, produced jointly with the artist Alfonso Lugo, they obtained its most recent and previously mentioned recognition.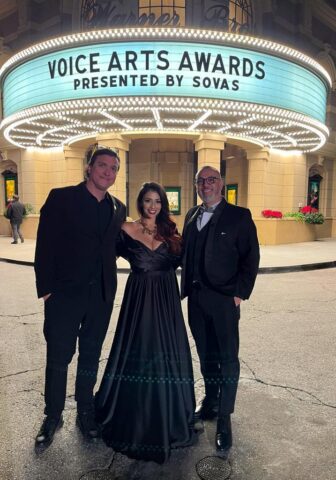 "I feel very honored and grateful. The Voices Arts Awards granted by the Society of Voice Arts and Sciences- SOVAS of the United States, are the most important awards worldwide in the industry and having won in the English category as a Latina, is an immense joy. I am very happy to represent the country and the voiceover industry in Costa Rica. In addition, sharing the joy with my other Tico colleagues nominated in other categories: Michael Rojas and Ernesto Fiks, was a beautiful gift. It is the biggest Ticadelegation to date," she said.
Beyond Mariela's successes, she decides every day to continue working on her personal and professional growth in an integral way, always innovating, venturing into new markets and constantly expanding her horizons. And from The Costa Rica News, we are sure that this success will continue.
How has the experience of working with important brands like Amazon, Coca Cola, Toyota?
For the successful Tica, working with teams of world-class brands has given her the opportunity to broaden her vision of sharing with people from other cultures, to address challenges that have helped her grow personally and professionally. In the same way, she feels grateful to each client who has trusted her work throughout her career. "Thanks to them I can dedicate myself to what I love."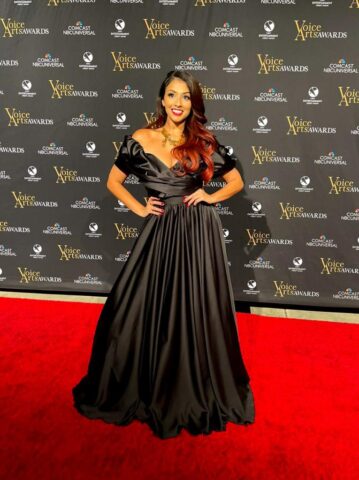 We are really happy to have interviewed a Ticaas talented as Mariela Baltodano, who made it very clear in her closing message that the road is not always easy, but it is beautiful and full of learning. "Celebrate each step, each achievement, however small it may seem. Be grateful for the opportunities for growth and draw up a plan that will take you to that place where you want to be. Alwaysfollowyourstar", she concludes.