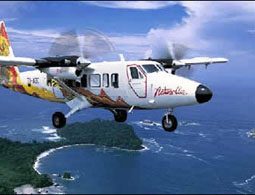 by TCRN Staff

Action taken by the Costa Rican Airline Nature Air to offset their carbon footprint has been recognized and rewarded by National Geographic.
According to the cable news agency EFE, National Geographic Washington announced Tuesday the projects that were selected in the competition on tourism innovation for the benefit of local communities and respect for nature.
In Costa Rica, Nature Air supports reforestation and protection of forests in the Osa Peninsula. "So far the company has offset nearly 20,000 tons of carbon dioxide through the protection of 500 acres (just over 202 hectares)," said Alexi Huntley, Sales Director of the airline.
In its operation, the company supports government environmental projects and uses biodiesel in road transport.
Besides this company, National Geographic awarded the "Facebook for travelers," the Spanish Jordi Ramot, and an initiative for education in Cambodia through donations and bicycle rides.
The work of Ramot, "Wikiloc Community Maps", works as a tool and a community of Internet users who review and submit paths, walks, routes and all sorts of information about any part of the world, according to EFE. It was founded in 2006 and has over 110,000 users.