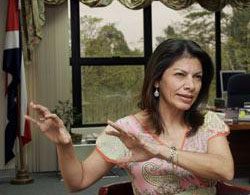 by TCRN Staff
"The drug problem for me is the greatest threat looming over our country," she said at a breakfast with foreign press correspondents at the Radisson Hotel.
Chinchilla commented that one of the primary approaches to tackling this scourge is the creation of a national drug authority.
For the candidate, the issue of drug trafficking and crime requires high-level decisions as President of the Republic, especially in coordination with the judiciary.
In the meeting with the foreign press, Chinchilla made it clear that she acknowledges in all respects, the new Honduran government of Porfirio Lobo.
"Once the Honduran people went collectively to the ballot box it is our duty to respect their sovereign decision" of the population, she said.
Yesterday she paused in her schedule with the press to visit the Association of the Holy Spirit in Cristo Rey, south of the capital.
She was greeted by dozens of children, women and the priest Sergio Valverde, who leads the social work of this group.
The priest said that this was not the first visit of Chinchilla to the center, since they have had a long collaboration with that organization.
At 2 pm the candidate attended an interview for the program Here and Now, Univision.
Then she went to Radio Columbia where she gave two interviews and at 6 pm took part in the comedy program Skinning the Eye on Radio Monumental.