In the artistic expressions of our country, you can recognize a common thread through innumerable years of pre and post Columbian history, identifiable in myths, heroes, legends and popular expressions. Many techniques and styles have been practiced, and there is diversity in the themes and use of materials.
Two notable personalities of the plastic arts and precursors of the cultural development of our country are a source of great pride and have strengthened our national roots.
Margarita Bertheau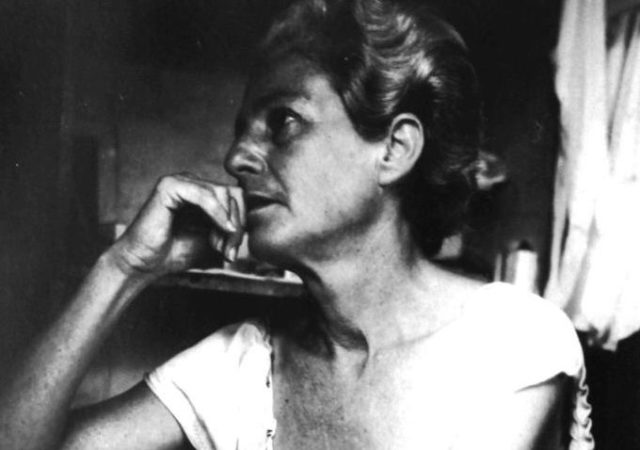 Margarita Bertheau Odio (San José, May 13, 1913 — Escazú, November 21, 1975) was a Costa Rican painter and promoter. Together with Francisco Amighetti, she was one of the initiators of mural art in Costa Rica. Also, she made important contributions to musical activities and national ballet. She won the Aquileo J. Echeverría de Pintura National Prize in 1967.
Her Works.
Margarita Bertheau made many important works of art, impregnated with great beauty and color, with great freedom in the line and chiaroscuro of strong contrasts. She ventured especially in the landscape but also produced portraits, nudes, and various compositions. She used the theme of dance class, ballet, and body. The handling of light as an expressive element was essential.
She showed special interest in watercolor, painting portraits of national art people close to her, such as writers Eunice Odio and Yolanda Oreamuno, dancer Leticia Alfaro and painter Olga Espinach. At the time, the friendship of Odio, Oreamuno, and Bertheau caused social misgivings at a time when the sexual liberation of women began.
Margarita Bertheau's watercolor landscapes include great lyricism and moments of intimate communication with nature. Her style ended up forging a new watercolor school in the country. It includes varied themes such as mountains, urban landscapes, and the seascape. She painted numerous still lifes and compositions with flowers, as well as numerous abstract works, which is one of the precursors of this genre in national painting. Although her favorite technique was watercolor, she made several oil portraits, with a loose and spontaneous pictorial style.
Awards and honors.
She won several awards:
Second prize of painting in the Latin American Floral Games.
Aquileo J. Echeverría National Painting Prize 1967.
First prize in the Stamp Contest of the Ministry of Finance 1970.
Exhibitions.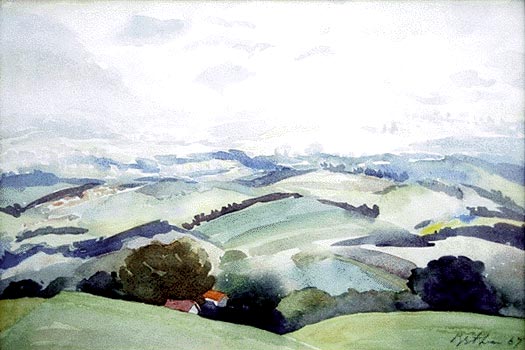 She made a large number of individual and collective exhibitions in Guatemala, Cartago, San José, The University of Costa Rica, National Museum of Costa Rica, Forma Color Gallery, Museum of Costa Rican Art, Jade Museum and Union Club, between 1946 and 1989.
In 2017, the Costa Rican Art Museum organizes the exhibition "Margarita Bertheau: Unpublished", the most important exhibition of the work of this renowned artist. With the curatorship of director Sofía Soto-Maffioli and the scientific coordination of Rafael Venegas, the exhibition gathered more than 120 works and documents, some of its watercolors had not been exhibited since the '50s and others were the first time they were shown publicly. This exhibition received excellent criticism in the cultural environment, giving Bertheau a deserved place in the history of Costa Rican art.
Teodorico Quirós Alvarado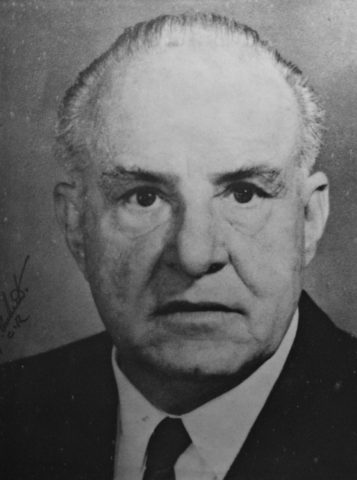 He was a Costa Rican painter who laid the foundations of the traditional landscape art. Dean of the Faculty of Fine Arts of the University of Costa Rica from 1942 to 1945. He is one of the most important painters of the nationalist generation of Costa Rican plastic arts, both for his paintings and his architectural works. In honor of his work, the Museum of Costa Rican Art established in 1998 the Teodorico Quirós Prize.
Biography.
He was born in San José, son of Antonio Quirós Morales and Clotilde Alvarado González. His mother was a pianist and taught him to play this instrument, transmitting his sensitivity to music. From a young age, he showed skills for drawing, so at the age of seven, he was enrolled at the National School of Fine Arts, where he received classes from eminent painters such as Tomás Povedano, Juan Koch and Enrique Echandi.
Secondary education took him to the Seminary College (1905) and then to the Liceo de Costa Rica, where he obtained a baccalaureate in 1915. Between 1916 and 1919 he studied architectural engineering at the Massachusetts Technical Institute, Boston, where he met the newest currents of design and painting.
He returned to Costa Rica in September 1920 and began his first pictorial stage. His return coincided with the beginning of a new sensibility in Costa Rican art, which led him to create, along with several national artists, a new trend in Costa Rican painting.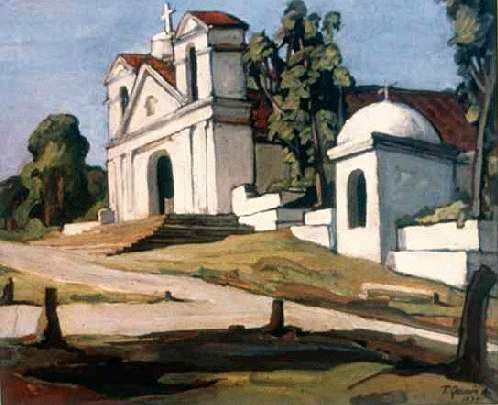 He elaborated landscapes of the Central Plateau and his preferred architectural form, the adobe house, preferably painted with oil, whose pastiness and firmness allow him to make a painting of greater solidity, delineated in several planes and wide color. In this way, he took the painting out of the workshops and took it to the countryside, to the rural landscape. His work has no ideological or psychological tendencies but is based on the severe and simple interpretation of the Costa Rican land.
In 1932 he made a mural at the Colegio Superior de Señoritas. With the collaboration of Carlota Brenes and the sponsorship of the Diario de Costa Rica, he organized and selected the first works that began in 1937 to the important Plastic Arts Exhibitions of the Diario de Costa Rica, in the foyer of the National Theater of Costa Rica.
These generated a strong pictorial movement of a renovating nature with an intense national impact. In 1934 he was part of the Circle of Friends of Art. Together with Manuel de la Cruz González, he collaborated in the elaboration of the first mural of a traditional character made in San José.
He was dean of the Faculty of Fine Arts of the University of Costa Rica (1940-1944), a position he used to reform the programs of that School.
In 1945 he was cultural attaché in Mexico, a position that served him to paint various aspects of the great Aztec capital, with compositions of great geometry and luminous contrasts. Between 1952 and 1953 he traveled to the United States and Europe and painted works of various subjects, nudes and portraits, and twelve chorotegas paintings. Between 1955 and 1956 his painting took on an expressionist nuance; He made the mural paintings of Popol Vuh, of indigenous motifs, represented in a gloomy environment of dark shades.
Death.
In the last years of his life, he dedicates himself to painting. He died on July 27, 1977, after receiving the Magón Prize, the most important award granted by the country, for his contribution to culture.