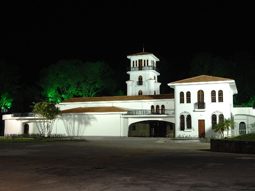 by ANDREA SOLANO B
The Costa Rican Art Museum (MAC) reopened its doors yesterday after being closed for 15 months.
The Ministry of Culture spent ¢632 million to restore and renovate the historic building that hosted the first international airport of Costa Rica between 1940 and 1955 – and allocate 900 square meters for the permanent exhibition of key works in the history of Costa Rican art.
In a ceremony led by President Oscar Arias and the Minister of Culture, María Elena Carballo, revealed the details of the rehabilitation process, which respects the best architectural neoclassical style features of the building.
"The roof was replaced with tile, as it was originally. The doors and windows in wood as pochote, caobilla and cedar were subjected to a restoration to recover all the original details. The floor of the first floor was badly damaged and had to be replaced with a mosaic similar to the original," explained the architect Ana Gabriela Sáenz.
As explained by director of MAC, Eduardo Faith, one of the most important changes was the installation of an electrical system that provides both the illumination of the spaces and a sophisticated security system with alarms and sensors.
Translation and Editing by TCRN Staff