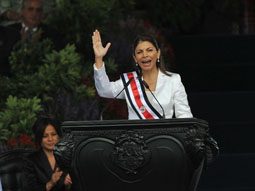 by IRENE VIZCAÍNO
With her new presidential sash on, Laura Chinchilla Miranda called yesterday for those who were political rivals, the social associations and all citizens to cooperate with the new government.
Her invitation was the main theme in the 25-minute speech as the President of the Republic which began at 11:53 a m. with a jubilant "Good Morning, Costa Rica!"
It was a modest speech, without quotes or complicated rhetoric, very different from the bombast of her predecessor in the office, Oscar Arias, who four years ago called "make decisions without seeking the illusion of unanimity."
"I stand with the humility of one who knows she can not succeed in her task if she is unable to call on all citizens with good faith," said the president.
Attendees of the speech responded with applause. Those who occupied seats of privilege, meanwhile, admitted their hope that the government, will become more open.
For instance, the former libertarian candidate, Otto Guevara, and the heads of fraction of Citizen Action Party (PAC), Juan Carlos Mendoza, and the Frente Amplio, José María Villalta, respectively stated their desire.
Among the group of special guests also included the Central American leaders, who knocked on the Chinchilla's door weeks before taking power after she announces she will join the fight against the common ailments in the region, such as drug trafficking and insecurity.
There was Daniel Ortega, Nicaragua's president, Mauricio Funes, El Salvador, Porfirio Lobo, of Honduras, and Álvaro Colom of Guatemala.
Translation and Editing by TCRN Staff


Sarah Rarick, Gender Analyst for The Costa Rica News, participated in a worldwide discourse discussing if the increase of women in positions of high social and political power is an indicator of the decline of the macho culture that has dominated the world for millennia.
The discussion centered around the successful presidential election of Laura Chinchilla in Costa Rica and the unsuccessful presidential election of Yulia V. Tymoshenko in the Ukraine. You can view the article and listen to the broadcast HERE.