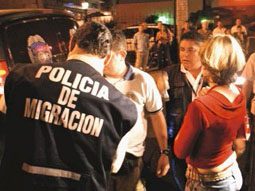 by TCRN Staff

Starting in 2011 the Immigration and Aliens Police will have 150 new officers, who will be engaged on research work to combat problems such as transnational organized crime.
Of these staff, 10% will consist of professionals from different disciplines who will be trained in policing. That body will be renamed the Police Professional Migration.
In total, the police agency will have 185 agents up from the meager 35 it has now.
These changes are brewing following the entry into force, on the 1st of March, the new Law on Migration and Aliens, adopted on 4 August.
Mario Zamora, director of Migration, said that at present the functions of the immigration police are virtually confined to detect foreign irregular conditions, refer to the detention center for foreigners in Hatillo, San Jose, and if they are deported to their safe-keeping country of origin.
However, their powers will increase and they will be partially devoted to investigate the actions of gangs in the area of migration and may report to the prosecution's case presented to them.
"We want to be a police force not only to seek out persons who are not legal, but dedicate ourselves to combating the mafias operating in this field. It is the first time that police in Costa Rica will have the designation of Professional Police, "Zamora said.