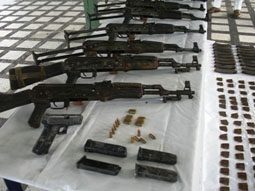 by TCRN Staff
A massive blow to the infrastructure of armed drug gangs serving troops handed Marines in Tumaco, to dismantle a cache that contained abundant war material. Two people were caught.
Spokesmen for the Navy indicated that development of the military operation which involved troops of the Fluvial Battalion of Marine Infantry No. 70 with the support of the Sijin, occurred in a home located in the village Caunapí, where he placed a garbage plastic buried where they kept hidden war material, apparently of the criminal gang 'Los Rastrojos'.
Among the material confiscated 10 rifles are AK47, 26 vendors, about a thousand cartridges for rifle, a 9mm pistol with four magazines and 22 pistol cartridges.
"These weapons, which apparently belonged to members of the gang in the service of drug traffickers 'The Stubble', was wrapped in plastic to avoid corrosion and have been used in several clashes with the security forces and the civilian population "said a source from the Navy.
In the action was captured a 27 year old man and a woman of 24, whose identities are being withheld, who went to the Prosecutor's Office Tumaco sectional with war material seized.
The Marines are following the dismantling of new inlets where, according to the network of cooperating, 'The Stubble' in hiding more weapons, ammunition and large quantities of cocaine hydrochloride ready to be sent to the international black market.