How is your sex life? Whether with a partner (casual or not), or alone, several studies suggest that we are simply not 'enjoying enough'. During the 2020 lockdown, a study published in the 'Journal of Sexual Medicine' found that 60% of British adults did not have sex or indulge themselves. And based on anecdotes, it seems that many people continue to experience low libido, even after all these months, which leads us to wonder how to increase libido.
Although some might automatically assume that decreased sexual desire is the result of no longer being attracted to their partner, the reality is that stress is the biggest culprit, which makes sense, since many of us are in transition. back to office work after a year and a half of changes.
"The way we live our lives tends to be very stressful, with information overload and constant external stimuli coming from our phones, among other things", says Cecile Gasnault, director of Smile Makers and founder of Vulva Talks. "Add to that a global pandemic, with its impact on public health, the economy and our social lives —plus the weight of uncertainty around if and when it will be resolved— and you have a very stressful backdrop".
Physiologically, when we're stressed, our bodies produce the hormone cortisol, which typically declines once the stressful situation has dissipated, explains Dr. SumeraShahaney, GP and Director of Clinical Operations for Thriva. 'This stops the body from producing other hormones, such as estrogen, which are important for sexual desire. Instead, the body prioritizes cortisol production. Since sexual well-being is an important part of mental and physical health—it is a natural (and free) way to feel good—Vogue consulted a few experts to learn how to boost your libido.
She remembers that the libido is different for each person
The first thing to know is that libido is fluid and varies from person to person, so avoid comparing yourself. "There is no widely accepted measure of what constitutes a 'healthy' level of desire", explains Megwyn White, Satisfyer's director of education. "Desire is, in essence, a motivating force that pushes you towards another. Instead of comparing yourself, focus on developing a stronger sense of self and defining what sex really means to you.The evolution of healthy sexuality comes when we understand ourselves, our rhythms, fantasies, and emotions, and the libido can be cultivated from it".
Increase pleasure by reducing stress!
As mentioned, stress can play a significant role in reducing libido. It is also common to experience low levels of physical arousal while maintaining psychological arousal, according to a study that explored the impact of stress on women's bodies and minds. 'For some, stress inhibits desire', says Megwyn White. One of the main aspects of this study was that the ability to stay focused on pleasure was diminished when stress was present. Their ability to distract our attention also often influences unhealthy habit choices, such as binge eating, drinking, smoking, or other addictive behaviors, which can negatively impact libido and confidence.
If you are feeling overwhelmed or overwhelmed by stress, it is important to avoid pushing yourself too hard. Instead, make small changes, such as incorporating meditation or breathing into your routine, exercising more, getting plenty of sleep, seeking mental health support, and generally thinking about what makes you feel good and putting it into practice. Although we cannot undo stress completely, we can protect ourselves from the sources that cause it, whether it is 'checking the news several times a day or watching stressful content', says Cecile Gasnault. "Take note of what makes you feel good and what stresses you out".
So how to increase libido? "Spend time exploring sensual self-care without the goal of reaching orgasm: little by little, you will begin to awaken your libido and be able to give yourself healthy pleasures", says Megwyn White.
Connect your senses!
But, despite everything… There is good news! One of the best ways to boost libido is to make sure our pleasure mechanisms are always on, whether mentally or physically, explains Aaron Michael, sexual embodiment coach and contributor to the sexual health app, Kama. Teaching our body to experience pleasure in all its forms is a priority: 'Connecting arousal with sensuality is the key to maintaining healthy levels of arousal during sex.
One of the easiest ways to connect them is by contracting your pelvis whenever you enjoy a pleasant sensation during the day, whether it is eating a nice meal or drinking cool water when you are dehydrated. Make sure you connect it with the intention of being present in your body. This, he says, provides biofeedback to your brain that your systems are responding to pleasure, which helps build more neural pathways for pleasure and "keep your engine warm".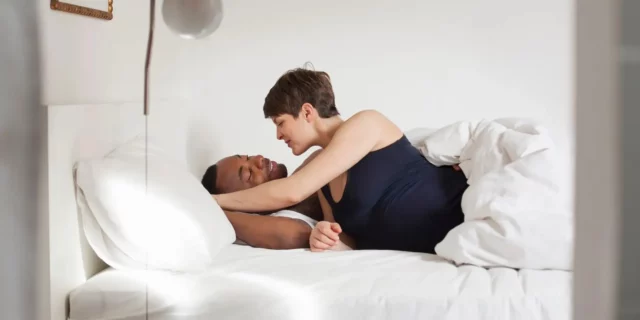 Consume aphrodisiacs…
Although desire is more complex than simply eating the right foods, there are some that can help us increase libido. Look for foods that boost your happy hormones and blood flow. 'Spicy foods can help activate dopamine, blood flow and circulation, while dark chocolate (70%) is always a good aphrodisiac: it contains tryptophan, an element that helps produce serotonin, and phenylethylamine, a stimulant related to the amphetamines that are released in the brain when one falls in love for the first time', explains Megwyn White, adding that green leafy vegetables, pomegranates, citrus fruits, garlic, almonds, chicken and shellfish also They are great aphrodisiac foods. "Avoid any foods high in saturated fat, which can increase cholesterol and reduce libido".
For her part, the wellness guru, Gwyneth Paltrow, has just launched a new supplement called 'DTF', which promises to promote desire and female arousal. It contains stress relievers such as shatavari and saffron extract to balance mood.
The interest of women for audio-erotic applications has increased. Like Harry Potter on audiobook (but much more biting), these stories take the listener on an auditory journey. Taking time to explore fantasies can help enhance your connection to the body's energy, says Satisfyer's director of education. 'Our fantasies help take our minds off the overwhelmingly negative messages that often consume our days and audio-erotic resources are a good way to do it'. Try apps like Quinn or Ferly.
Smile Makers director and Vulva Talks founder Cecile Gasnault recommends triggering the erotic imagination in other ways as well. "The brain plays a central role in our sexual response (or lack thereof) and there are more and more places where you can find feminine and ethical erotic resources", she says. 'Whether in writing, in audio format or on film'.
Consider contraceptive pills
"The pill can affect libido, as many pills contain estrogens and progestogens, female hormones that can affect the amount of testosterone the body produces and therefore negatively impact sexual desire", says Megwyn White. "It is important to discuss your options with a doctor to find the right pill for you and to discuss additional lifestyle strategies". There are also other contraceptive methods, such as condoms, the IUD and the diaphragm, treatments that could help you if you have libido problems.
Connect with your body!
You have already connected with your senses; now is the time to really get to know your body. 'Take some time to disconnect and reconnect with your body, it doesn't have to be sexual if you do not feel like it,' explains Cecile Gasnault. 'It can be massaging the belly, legs or face, doing yoga poses that you like or a body scan. Make a list of the parts of your body that you like the most on a piece of paper; take nudes of yourself. You can invite your partner to participate without it being about sex, just intimacy and relaxation. Ironically, even if you do not feel like it, masturbation is one of the answers to how to increase libido, plus it releases hormones that help us relax and sleep better.