There is no doubt that Costa Rica is a country full of Valuable Women, who fight, project themselves, stay focused until they reach a goal, many of them achieve more than they thought and a key example of this is the businesswoman Rebeca Mora. Her successes have been so notable that she was a finalist on the reality show "Imparables" on E!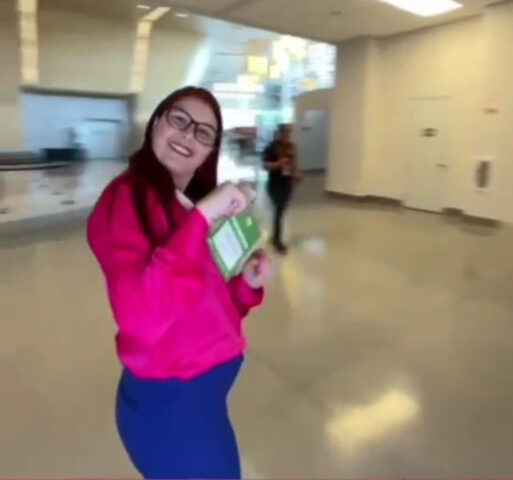 And really, Mora is unstoppable,she never stops living and taking advantage of new opportunities within the business area, which is why she has been very successful with her company Wimo, in which she also works as a cosmetics manufacturer.
It should be noted that "Imparables" was the first purely female competition and empowerment reality show, aimed at Latin American women. Rebeca was one of the 20 participants that were selected.
"Having participated in the Imparables school, it was like a personal matter, fabulous living on TV in the Streaming era, it was interesting to find out through people who told me:"I saw you in a program"! I had never had the experience with filming area in the professional field and I was able to have as mentors super VIP First World women, businesswomen, educators who are inspiration," she said.
The Tica in 2021, was chosen among the 20 business promises by Forbes of Central America, and has also been the winner of the INCAE Entrepreneur Award, a well-known Latin American competition.
From The Costa Rica News, we spoke exclusively with Rebeca Mora, where she told us details about her learning, inspiration, and approach. She is from San Antonio Desamparados, and has always lived in the most populated canton of Costa Rica.
She remembers how her parents taught the entrepreneurial spirit, mainly from her father, "he always had his own business, he comes from a generation that was educated to be someone else's employee, but he broke a little with that mold and decided to start a business. Since the year 2000 I decided to work with him, in that way I lived "the good and the not so good" of his business," said Mora.
What inspires you about Costa Rica?
Rebeca is inspired by her country, how beautiful it is, and she says that in the center of the continent, you can visit it, get to know it, for example, from the center of the capital in a couple of hours you can be on the beach, in the mountains, a rainy or cloudy forest, volcanoes, waterfalls, you have endless destinations to choose from.
In the reality show, she wanted to demonstrate that the only small thing that Costa Rica has is its territory, because its people are great. "We have 5% of the world's biodiversity, export professionals in any number of fields and that fills me with pride, and inspires me," she added.
About her professional training and experience in the business area
Rebeca is a business administrator, she studied at the ULACIT Private University, in fact they were her first client. When she was 18 years old, she managed to exchange with them tuition for cleaning products that her father produced, and they trusted her.
After working with her father, she became independent as a Brand Manager of a company in the cosmetics industry, "I liked it so much that I decided to fully immerse myself in the cosmetics area."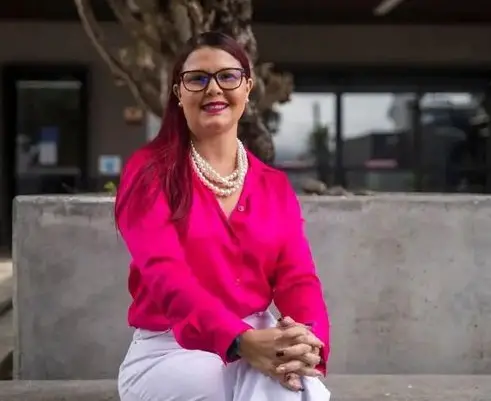 What led you to the business world?
Mora considers that her father definitely introduced her to the entrepreneurial world, "when working alongside my father in the hygienic products part, I observed that the money was in thecosmetics, so I wanted to cross into that industry, it's hard because there are 536 requirements in the good manufacturing practice regulations, it's crazy, but I thought it was an excellent opportunity because there are so many requirements, few can or want to meet them".
What is needed today to carry out a company?
Rebeca Mora always says that the most important thing is to learn to undertake. In her opinion, people enter the business world and it's like jumping into a pool without knowing how to swim, "if you don't have the tools and the knowledge, you're going to drown on the first try. The other thing is that many people start their business in based on a need, but at any point in the enterprise in which you find yourself, constant training is essential".
She said that now there are many people producing cosmetics by hand and a competitive advantage is having products registered with the Ministry of Health, the user ultimately has to educate himself a little more and make sure to buy products that have sanitary records, that are safe for consumption.
What do you need to do or achieve?
The Costa Rican businesswoman wants to cross into the pharmaceutical industry, it is something that she sees in about five years and hopes that by the end of this year 2023 she will already be a manufacturer of cosmetics for pets.Rebeca is a woman, who loves to share with her family, with her children doing anything(playing, going for a walk in the mountains or riding a bike).
There are characters she admires, especially Sandra Coffman, for her was just a dreamy girl who, based on talent and opportunities, has managed to achieve and reach the stars.
What is missing in Costa Rica?
Mora considers that the country needs governments to be linked with business administrators, managers or project managers, "I think that people are wrong and place the wrong ones in powers to run the country. The Ministry of Economy should be full of businessmen, entrepreneurs leading it, who are the ones who have faced first-hand the difficulties of starting a business in Costa Rica", she highlighted.
Finally, Rebeca shared a phrase that she always carries with her, and that is that "you don't get what you dream about, you get what you work for." She assures that of course people can dream, but if they are not focused on working to achieve their goals, opportunities will not rain down, much less will they knock on the door as if nothing had happened. Another important issue that she said is that all dreams can come true, but it must be clear that not all dreams are profitable.
If you want to know more about Rebeca Mora's company, you can visit the website www.wimocosmetics.com