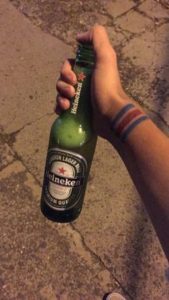 It gets really hot in the tropics and Costa Ricans know it. Faithful to their laid-back lifestyle, Ticos enjoy having a nice drink after a long hard day at work. Beer is one of their most popular drink choices for cooling off. Come to think of it, on a hot day, when you are seriously thirsty, the combination of a good frosty brew with some lush beautiful landscapes or while watching "La Sele" is "an offer you cannot refuse".
The country
Costa Rica is fertile land for beer. Two household names dominate the scene: Pilsen and Imperial. Both Rubia and Aguila have a loyal fan base, but if you want to go off the beaten track, there are about a hundred different craft (artisanal) beers to choose from. And if your taste buds favor major world beers, most brands are on the menu as well. Among them is one of Holland's best-known products: Heineken International.
The company
Heineken was first introduced to Costa Rica in 1986. It has been 32 years and the brand has become one of the most popular imported beers in the country. Curiously, Heineken is not really imported. It is brewed locally by Cerveceria de Costa Rica under a licensing agreement. They were the 1st Latin American brewery authorized to do it.
* According to some sources, Heineken is the leading imported beer brand in over 100 countries.
* Heineken has over 80,000 employees in more than 70 countries.
* In 2002 the company reached a US$ 229 million, 25% stake strategic business alliance with the Costa Rican beer group Florida Ice and Farm Co. (FIFCO) to further develop its presence in the Central American market. Nowadays, the 154-year-old Dutch brewery enjoys a strong position in the Costa Rican beer ecosystem.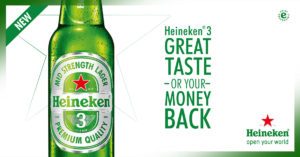 Heineken sponsors many events around the world. Its red star and green oval label can be seen in many venues from sports arenas to music festivals. In Costa Rica, the brand has also promoted several editions of local "mega-parties" like Fiestica Moncheña and Beach Party Reserva Conchal. In addition, the company produces collectibles such as special edition bottles, clothes, and other promotional items.
The city
San José, or Chepe, as it is affectionately known by the locals, is now part of a group of 6 global cities: New York, Shanghai, Berlin, Amsterdam, London, and Rio, that Heineken has highlighted in its campaign 'Cities of the World'. This campaign "[aims] to inspire men to live worldly, new adventures by unlocking the secrets of their cities."
The place
One of the San Jose's most iconic landmarks is Parque Nacional. A very popular "green spot" in the Costa Rican capital, this park contains the famous Monumento Nacional and various busts and statues dedicated to prominent American heroes and historical figures. Additionally, it is surrounded by many interesting public buildings, such as the National Library, National Museum, and Museum of Contemporary Art and Design. Currently, and ending late February 2018, there is a sculpture exhibit going on.
The invite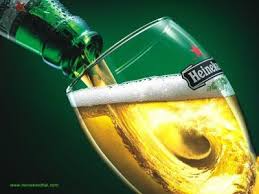 This February 24th, from 11 a.m. until 8:00 p.m. Heineken invites you to visit the National Park and experience the San José Open "through your 5 senses". The event, geared for all audiences, will include:
* A gastronomic experience
* A "mercadito" (small market)
* Live music
* An urban walkway and an open-air cinema
So, if you are looking for a great way of spending next Saturday, come over and enjoy this refreshing invitation to get away from it all. Cheers! Or as Ticos say it: Pura Vida Mae!