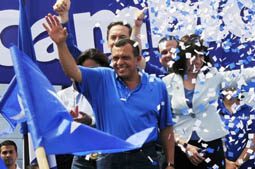 TEGUCIGALPA – Honduran president-elect Porfirio Lobo Sosa said on Monday that he will travel to Costa Rica and Dominican Republic to help "normalize" ties with countries in Central America.
"Tomorrow (Tuesday) we are going to Costa Rica and on Thursday we are traveling to Dominican Republic," he told the press.
Lobo said that in Costa Rica, he and his delegation will meet with President Oscar Arias, describing Arias as a man with rich experience who will help Honduras open the door at international stage.
In Dominican Republic they will meet with Dominican President Leonel Fernandez.
Lobo also said that Panamanian President Ricardo Martinelli will arrive in Honduran capital Tegucigalpa on Wednesday.
The flurry of diplomacy came when many countries neither recognized the current de facto government nor Lobo's triumph in the controversial election, as they consider the presidential race illegal.
Since the elections on Nov. 29, Lobo has met with representatives from Honduras' different social sectors in the hope to form a government of national unity.
Three former presidential candidates — Elvin Santos of the Liberal Party, Bernard Martinez of the Innovation and Unity Party and Felicito Avila of the Christian Democracy Party — will accompany Lobo during these trips.