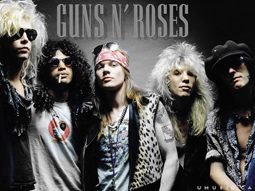 by TCRN Staff
The mystery is cleared and the confirmation is official: The American rock band Guns N 'Roses will give a concert in Costa Rica on Wednesday April 7th at the Ricardo Saprissa stadium in Tibás.
The rumor that the band would come to Costa Rica began to stir several days ago when some media started to spread the rumor without any official confirmation. However, it was not until yesterday that the company 28 Production and Marketing Advisor partner, both from Costa Rica, signed the contract to put on the concert by Guns N' Roses.
The ticket prices will be announced Monday March 1st and will go on sale Tuesday the 2nd of March at www.todoticketcr.com.