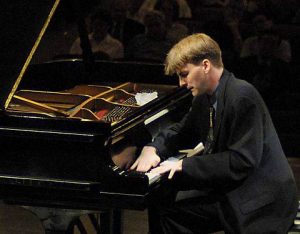 World-renowned pianist Roger Wright will perform as Guest Artist for the Season Opener concerts with Orquesta Sinfónica Nacional de Costa Rica at Teatro Nacional on Friday, February 26 at 8pm and Sunday February 28 at 10:30am performing Rachmaninoff's Piano Concerto No 2 under the direction of Maestro Chosei Komatsu.
(LOS ANGELES, CA – February 23, 2010) "A major pianist…a gorgeous display of effortlessly flowing melody, rhapsodic bravura and electrifying passagework…freshly conceived and spontaneous.
— The Washington Post
"magical…exquisite..ardent and impassioned…compellling."
—The East Hampton Star
In 2009, Mr. Wright and Maestro Komatsu successfully first collaborated on Rachmaninoff's Piano Concerto No. 3 with the San Antonio Symphony. The San Antonio Express-News declared "In Wright's capable hands, the majestic concerto, especially the cadenza in the first movement, was both elegant and furious."
The Houston, Texas-born and raised artist began his piano studies at the age of twelve, making his concerto debut at age eighteen with the Houston Symphony. In 1998 he captured international attention when he won the 24th Frinna Awerbuch International Piano Competition in New York City, which led to his debut at Carnegie's Weill Recital Hall. In 2000 he did it again. Responding to the overwhelming support he received from the audience, radio listeners and critics at the Sydney International Competition, the Australian Broadcasting Corporation released Piano Masterpieces, a CD of his performances at the competition. Music critic, Neville Cohen rated the album as "CD of the Year" (the West Australian, January 2001). His recording of Between Five Bells from this CD earned composer Peter Sculthorpe the Australian Performing Rights Associations (APRA) Award for the Most Performed Contemporary Classical Composition of 2001.
Mr. Wright received the Gold Medal as well as the Best Performance of a Romantic Work and Best Performance of a Commissioned Piece at the 2003 San Antonio International Piano Competition. He was also one of only 32 competitors selected worldwide for participation in the Eleventh Van Cliburn International Piano Competition in Fort Worth.
Roger Wright has performed in major music centers in both the USA and abroad. His performances have been broadcast on WQXR in New York City, on David Dubal's celebrated series, Reflections from the Keyboard. ABC, CBS, and NBC San Antonio, ABC Australia, CBC Radio Canada, WFMT-FM Chicago, Texas Public Radio, and 105.1 K-Mozart in Los Angeles.
Roger Wright received his Bachelor's Degree from the University of Houston's Moores School of Music and his Master Degree from Rice University's Shepherd School of Music. His principal teachers include Ruth Tomfohrde, Abbey Simon , John Perry, Horatio Guiterrez, and John and Nancy Weems.
When not performing, Mr. Wright, under his more casual name "Trey", is one of the most recognized Scrabble players in the world. He holds the winning title for the 2004 National Scrabble Championship, a five-day tournament held in New Orleans and televised by ESPN. In this capacity he has also appeared on TV in the USA on NBC's Today Show and Identity, ABC's Jimmy Kimmel Show, CBS's Sunday Morning as well as CNN and GSN's Lingo.
Further Information: www.osn.go.cr