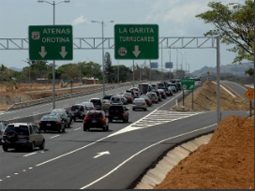 by TCRN Staff

The Instituto Costarricense de Electricidad (ICE) reported that the new San Jose-Caldera highway is covered by the new 3G cellular network for 90% of the trip.
To achieve this level of signal penetration, ICE placed several "node Bs" along the 80 km route. These nodes are the equivalent of radio base stations and other mobile technologies are enabling wireless communication with mobile devices such as USB modems and cell phones.
According to ICE, including the National Gymnasium in San Jose, and the town of Brasil de Mora, the coverage is close to 100%.
On the route between Brazil de Mora and Orotina the signal range of 3G to make and receive calls and transmit data, is approximately 86%.
Currently, over 300,000 users utilize the third generation cellular network (3G) of ICE.
The network has capacity for 950,000 connections.
ICE was asked if the improvements will also aid GSM and TDMA networks, with little signal on the route, but at press time there was no answer.
The new road to Caldera was opened to the public in late January.
The country has just over 2 million mobile phone users and the majority belong to the older GSM and TDMA.
The Institute reported that it has launched the installation of Node Bs around the country in order to provide better service quality. At this stage there are at least 300 new towers coming on line in the country, which will allow coverage for 90% of the population located in rural and urban areas.