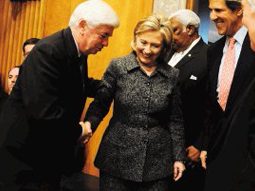 by TCRN Staff

The U.S. confirmed yesterday that Secretary of State and former first lady, Hillary Clinton, will be visiting Costa Rica next week.
During her stay, Clinton will participate in the Third Ministerial Meeting of the Initiative Paths to Prosperity in the Americas and shall meet separately with President Óscar Arias, and his successor, Laura Chinchilla.
The Minister of the Presidency declined to comment on the list of items that will be discussed, merely stating that "We still have time to create an agenda to take advantage of the visit of Mrs. Clinton."
Meanwhile, Chinchilla held the possibility of meeting with Clinton to advance talks that began weeks ago with both the president, Barack Obama, and with senators of that nation.
"We have been reiterating many issues, but especially those having to do with clean energy and drug trafficking. Of course we will return to a much broader agenda, " Chinchilla said Wednesday.