Lance Harrell
Editor in Chief
I had the extreme pleasure on Friday night to attend the Season Opener of the Orquesta Sinfónica Nacional de Costa Rica at the Teatro Nacional. Not only were their renditions of Tchaikovsky, Smetana and Rimsky-Korsakov exquisite, but I enjoyed the rare delight of listening to one of the greatest pianists of our time, Roger Wright. Wright's talented and energetic playing style was brought to bear on one of the most difficult and technically demanding concerti in all of the piano repertoire, Rachmaninoff's Piano Concerto No 2, which he performed brilliantly.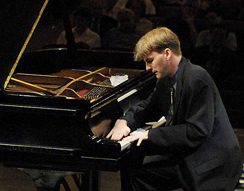 Friday night's concert was performed against the elegant and classical backdrop of the Teatro Nacional, one of Costa Rica's cultural treasures. You can still see Roger Wright during his last performance tomorrow at 10:30am, but if you are not able to indulge in this audible chocolate, the next performance of the Orquesta Sinfónica Nacional de Costa Rica will be on Friday the 16th of April where they will be playing selections from Schubert, Haydn, Proto and Mendelssohn and featuring the talented trumpet styling of Jens Lindemann.
TIP: Get our latest content by joining our newsletter. Don't miss out on news that matter in Costa Rica. Click here.
For information on their full schedule (in Spanish) visit http://www.osn.go.cr/