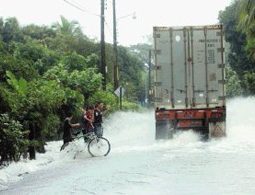 by TCRN Staff

Although the rain has subsided a bit resulting in a marked drop in the water height of the rivers, hundreds of homes in the Caribbean, Sarapiqui and the north remain flooded.
Rivers such as the Parismina, Jimenez, Silencio, Barbilla and Sarapiqui have returned to normal, although they left banana, cassava and plantain plantations filled with water.
During the day a light rain fell and the sky remained cloudy with strong winds.
The National Meteorological Institute (IMN) reported that these effects were the aftermath of a cold front from Sunday but today is expected to see a decrease in its influence.
Despite the improvement in weather, the number of victims continues to increase.
The National Commission for Risk Prevention and Emergency Response (CNE) reported that in the canton of Matina there are 276 people in shelters and in the community halls of Goshen, Santa Marta and Batan.
While in Sarapiqui, Heredia, there remains 276 people in positions of care in El Tigre, The Guaria and San Jose Cano. In Santa Rosa, Guácimo, opened another shelter with 14 people.
The Red Cross arrived yesterday in San Martin and Freeman-Matina, where the water had risen 1.6 meters, to try to rescue the victims, but no one would leave their properties. "No one wanted to leave, there was even a patient that was bleeding," said Miguel Batista cruzrojista.
According to those affected, the worst of the storm has passed.
Mario Ramirez, municipal emergency coordinator in Guacín, adding that when the flood waters begin to recede people will begin to see the effects on agricultural crops.
Moreover, most of the flooded area roads are covered with debris and it is almost certain that the surface material was washed away with the rain.
For now, there were no reports of bridges or culverts collapsed by the impact of the water.