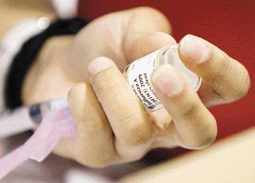 by TCRN Staff

The arrival of the consignment of vaccines against the AH1N1 virus suffered another delay, as acknowledged by the Health Minister Maria Luisa Avila.
200,000 vaccines is what the Government asked the Pan American Health Organization (PAHO) for to address the second wave of pandemic influenza.
Initially, it was expected that the doses would arrive in the country before December 10th last year. Then the date was moved to the first week of January and now it is uncertain when the drugs will arrive.
Avila said the cause of this new delay is due to a strike by workers of the French pharmaceutical company Sanofi Pasteur, which produces the vaccines.
"This is like Murphy's law. Today I was talking to the internal director of PAHO and he told me are they are already making all efforts to expedite the process and avoid further delays."
"They are trying to reach an agreement for no further delays," said Avila, who did not hide his displeasure.
The first delay, which occurred in December, was a product of administrative practice, which said the official, was overcome.