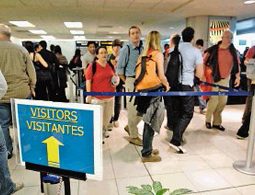 by TCRN Staff

The $20 million collected via a new airline tax levied on tourists by the Costa Rican Tourism Institute (ICT) will be used to bolster tourism advertising campaigns both here and abroad.
The fee of $15, which has been in force since last July, is charged to every foreigner who purchases a plane ticket to visit the country.
The money received through December will be used in print advertising, radio and television in Costa Rica and the world, said Allan Flores, Minister of Tourism.
Most resources are allocated to North America and Europe, but ICT is also seeking more tourists with high purchasing power in South and Central America. It will promote local tourism and the attractions of Limon.
Between 2006 and 2009, the budgetary authority of the Ministry of Finance ICT authorized to use their financial surpluses to increase its budget for advertising.
Thus, ICT had an influx of $7 million in 2007 to a $20 million in 2008. Flowers said that there still remains a surplus at the ICT, but said that management has not yet supplied the data on the exact amount for 2009.
The additional charge of $15 applies to tickets purchased in the second half of last year, following the adoption of the Law for Strengthening of the Tourism Industry.
The law repealed the payment of 3% additional sales tax (13%) which is applied to the daily rate of hotels. With this tax, ICT captured $10 million annually.
Minister Flores said that they will keep America and Europe as key promotion points.
U.S. and Canada account for more than half of all visitors to Costa Rica, while Spain, Germany, France and Britain reached 17% last year.
"We must diversify our product, while maintaining the strong markets we have today," he said.
Flores said the company Burson-Marsteller will continue serving as Public Relations Officer of the Costa Rican Tourism Institute in the U.S. and Canada and said he managed to hire another company to make such efforts in Europe.
The intention of the institute is also increasing efforts to strengthen the country's image as an ecological destination.