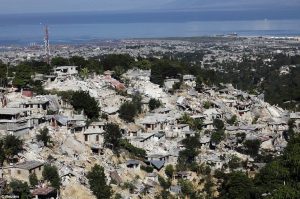 by TCRN Staff

The Haitian capital was transformed into a giant cemetery after the quake that the government says will have caused over 100,000 deaths.
Hundreds of thousands of people spent a second night outdoors, without water or electricity because of the 7.0 earthquake on Tuesday that destroyed the largest city in the America's poorest country.
TIP: Get our latest content by joining our newsletter. Don't miss out on news that matter in Costa Rica. Click here.
Tens of thousands settled in Campo de Marte, one of the main streets of Port au Prince, which quickly became a huge refugee camp.
Just across from the multitude of homeless, destroyed government buildings, including the presidential palace and various ministries, appeared to reflect the inability of Haitian institutions.
Thousands of panicked people sought refuge in Petion-ville, a suburb of Port-au-Prince, after the rumor of the arrival of a tsunami.
"Some people felt strong vibrations. Suddenly became very cold and said that the water rose," said a woman who was heading to Petion-ville. However, no specific evidence confirmed rising waters.
"Some people spread these rumors to facilitate the looting of homes," said a hotel manager who requested anonymity.
The collapse of the power plant plunged Port-au-Prince into total darkness. Communications, already precarious, are completely cut off. The dispatch of injured to hospitals is almost impossible because the roads are impassable.
Prime Minister Jean Max Bellerive estimated the number of deaths at over 100,000.
The bodies recovered on the ground are covered with cloth, while the survivors are wonder around as if lost. Many seek food and other relatives or digging with their hands in search of people buried. In the desolate Puerto Principe are ambulances, fire and bulldozers.
Following the worst earthquake in 200 years, Haitians lack everything.
"Some die of cold, dehydration or injuries that could have been cured easily," said former U.S. President Bill Clinton, UN special envoy for Haiti. According to Clinton, over the next 10 or 15 days the emergency services should focus on basic needs like food, shelter and first aid.
Many countries and aid organizations began to send food, rescue teams, doctors and hospitals to meet victims and rescue those trapped in the rubble.
United States, several European and Latin American countries, the International Red Cross, the Iberoamerican General Secretariat and the Inter-American Development Bank announced the shipment of money, food, volunteers, firefighters, experts and even specialized search dogs.
The Russian government on Thursday sent a plane carrying a team of rescuers, while the authorities pledged to send more aid, including a field hospital and medical staff.
A U.S. Navy aircraft carrier is expected on Thursday following the decision of President Barack Obama to take action "early, orderly and energetic" to help Haiti. The Pentagon began sending ships, rescue teams and experts.
Brazil, which exercises the military command of the Mission of the UN Stabilization in Haiti (MINUSTAH), sent its defense minister, launched an air bridge and prepared eight aircraft with humanitarian assistance, besides allocating 15 million dollars to help.
The World Bank announced that it will unlock an additional $100 million for Haiti, which holds the lowest per capita income across America and has 80% of its nearly 9 million people in poverty.