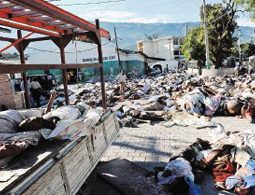 by TCRN Staff

The earthquake that devastated Haiti on Tuesday threatens to disrupt the process of recovery that had begun years ago in the impoverished country, experts fear.
"It is not only unprecedented destruction. The quake abruptly halted a good start," lamented Bob Perito, coordinator of programs from the U.S. Institute of Peace (USIP).
TIP: Get our latest content by joining our newsletter. Don't miss out on news that matter in Costa Rica. Click here.
"There was such hope for Haiti's future, a hope that nature may just have seriously damaged," said U.S. Secretary of State Hillary Clinton.
Her husband, former President of the USA, Bill Clinton, is leading a UN mission on the island.
According to Perito, Haitians felt that things were better after 20 years of dictatorship, instability and political violence.
"The economy began to register some growth in the order of 1 to 2% per year. Investors came. Recently, a major hotel chain had decided to build on the island. There were also investments in textiles," he said.
A series of four hurricanes in September 2008, caused 800 deaths and damages of one billion dollars.
"Yet international aid had flowed, with a commitment to rebuild Haiti,". but fears that the earthquake has "a severe psychological impact."
The tragedy is already affecting the organization of legislative elections in February, even the presidential election of 2011, which managed elections in a difficult political climate which are almost always heated.
"Haiti is the poorest country in the Americas. This implies that the gravity of the situation in the long term, following the earthquake, will depend very directly on the level of destruction of infrastructure", said Phil Neiburg analyst natural disasters Center for Strategic and International Studies in Washington.
"If the port cranes were destroyed, as I said, this will prevent the unloading of vessels for at least a few weeks," he said.
Robert Maguire, a Haiti expert at Trinity University in Washington, also found that care for people displaced by the quake will be a challenge in the next six months.
"The tragedy illustrates the need to further decentralize investment and the population in Haiti can not continue piling people in Puerto Principe to the detriment of rural areas neglected and without investment in agriculture", he said.
If this was a very costly change a few days ago, it will cost even more after the earthquake," he said. Maguire expects the international assistance to enable those who wish to "leave Port au Prince and rebuild their lives."