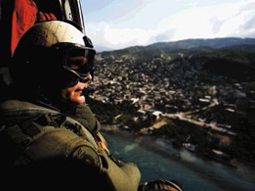 by TCRN Staff

Rescuers from around the world searched yesterday for survivors in the wreckage of the earthquake which struck Haiti on Tuesday, as American troops began to distribute food and water among the population.
Despite the large amount of aid being sent to Haiti in food and rescue groups, the infrastructure of the small island nation is delaying relief efforts.
The UN secretary general, Ban Ki-moon, said the collapsed airport and blocked roads are severely hampering the delivery of humanitarian aid, especially food, to the population.
"Much of the three million Haitians who are in the capital or its surrounding areas are without access to food, water, shelter and electricity," he said. He also indicated that between Thursday and Friday, some 8,000 people had received food several times a day. The agency will install 15 distribution centers for food to better organize the distribution he added.
Ban made an order of $500 million to the international community for assistance and reconstruction in Haiti for six months.