The headquarters of the Fidélitas University, in Heredia, joined the select group of companies and institutions that obtain a place within the Country Program directed by the Direction of Climate Change of the Ministry of Environment and Energy of Costa Rica (MINAE).
As reported by the Climate Change Directorate in 2017, the Carbon Neutrality Country Program "is the government initiative to formalize the processes related to the reporting of greenhouse gas (GHG) inventories for organizations and the application of the INTE B5 Standard to demonstrate carbon neutrality".
"Being the 1st University with the Country Brand associated with the Carbon Neutrality certificate, is a social proposal that we started not only as an educational social responsibility but as creditors of a message for all our students, where they are openly invited to an initiative that will generate a better home for all", explained the engineer Greivin Víquez, administrative director at the Heredia headquarters.
The use of cleaner technologies, the implementation of proposals to include measures for the prevention and control of air pollution, and the generation and sending of environmental capsules to all personnel are some of the actions promoted by the Fidélitas University.
The 1st carbon neutral campus in the country
The headquarters in Heredia of the Fidélitas University became, in 2018, the 1st campus in the country to successfully complete the carbon neutrality verification process. The verification was carried out by the Neutral Carbon Unit of the EARTH.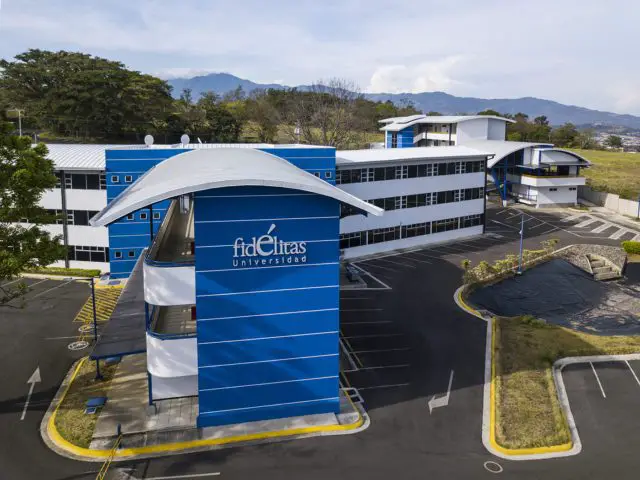 To achieve C-Neutrality, Universidad Fidélitas complied with 7 steps: 1) Quantifying the emissions inventory, 2) Planning or implementing actions, 3) Carrying out the planning of removal projects, 4) Establishing and maintaining procedures, 5) Elaborating a GHG report; 6) Performing an internal audit; and finally, 7) Complying with a final evaluation to verify compliance.
The campus of the Universidad Fidélitas, in the province of Heredia, is located from the Walmart 1.3 kilometers west on the road to Aurora.