Gerardo Fabricio Alvarado Muñoz, the standard bearer of the Partido Restauración Nacional (NRP), is one of the 2 Costa Rican presidential candidates that after the election's results in February will go for a run-off this April 1st.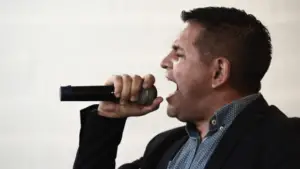 The journalist -also Christian singer and former television presenter- has planned to make a series of changes in different social and productive sectors of the country. Alvarado does not offer a revolutionary government, but instead a management plan for the renovation and development of Costa Rica.
Highlights
A couple of Fabricio Alvarado's most outstanding and well-known proposals are his intention to promote traditional family values and customs, and thus safeguard the sovereignty of Costa Rica. This position is a response to the ruling by the Inter-American Court of Human Rights regarding the rights of the LGBT community. In a nutshell: the court told Costa Rica to legalize same-sex marriage. Additionally, he highlights: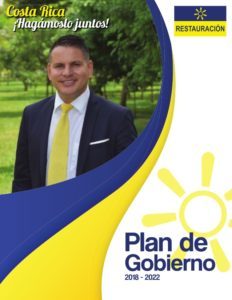 "Same-sex couples & families are protected by the American convention.
Costa Rica ought to recognize all the rights given to heterosexual families and grant them to same-sex couples and families who have been denied them by other laws…
States are to grant access to all of the same rights, and processes that heterosexual couples have access too, including marriage and adoption (which should be mentioned too) because in Costa Rica same-sex couples cannot adopt but individuals who are attracted to the same-sex can".
Costa Rica is widely regarded as very religious and conservative country and the ruling was a ground shaker for many. Alvarado had been very vocal in his position to ignore this decision. Critics say that his against the grain stand, is the main reason why Alvarado, that used to be a fringe candidate, suddenly started leading in the polls and what eventually brought him to this political moment.
Another proposed goal of his political plan is the development of a policy of "Social Christianity", which intends to be oriented towards deepening the Judeo-Christian ideology within the society.
In the economic area, Fabricio is focused on increasing production and employment to achieve economic development. Its strategy will be the strengthening of the productive chains of all the corporate strata.
Additionally, Alvarado promises to overcome the fiscal deficit that affects the country. His proposal confers manage short-term deficits with the idea that they are sustainable. The objective is balancing the State's economy in a timely manner.
Indeed, within the government plan of Fabricio Alvarado, it is possible to find the proposal of a social-political reform that is based on developing optimal assistance plans for the Costa Rican population.