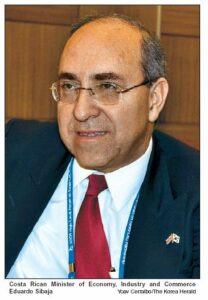 The tiny country of Costa Rica has giant plans to help change the world for the better, but for that to happen, serious issues need to be looked at closely. Next month, the world will converge in Copenhagen for the United Nation Climate Change Conference and Costa Rica is proposing a similar carbon capture program that was originally brought up in Kyoto 12 years ago.
"Costa Rica was the first country to propose a mechanism to capture CO2 produced in developed nations through the forests and national parks," said Costa Rican Minister of Economy, Industry and Commerce Eduardo Sibaja.
The mechanism proposed was not only to exchange CO2 emissions for cleaner air produced by trees in other countries, but also a way to measure those chemicals versus clean air either filtered or produced by mother nature.
"The only countries who understood this plan were Nordic countries," he told The Korea Herald.
Basically, the idea is similar to a carbon trading system.
"This works for Costa Rica because we don't produce much and it helps the industrialized countries who produce a lot," Sibaja pointed out.
While the media is talking about the already-failed Copenhagen summit, Sibaja believes there are great opportunities to be had there.
First of all, 12 years is a long time. When the Kyoto Protocol was agreed upon, the challenges of climate change were a distant problem only examined by science fiction or doomsday movies.
Today the problem is real.
"I expect the conference will have better results because now people are scared," he said. "But I don't think we will find a way to get everyone on the same boat, but at least, people are coming to Copenhagen with a different mood and knowing what is going on in the environment."
Sibaja mentioned that countries that share their borders with any of the world's oceans are worried that they might lose territory because of the rising sea levels. There is also the increase of violent storms like hurricanes.
"It's not only the disasters by themselves that have increased; the production cycles of food are changing dramatically with the change of weather," he said. "This will affect the way we feed our population. There might be not enough food in the world."
For Costa Rica, those challenges can become opportunities, especially in the fast growing green growth sector.
Another area Costa Rica is hoping to change the world is by changing the current classification of countries' incomes.
Sibaja said that middle-income countries have been "punished" because of this classification.
"The developed countries put their resources in Africa to stop hunger and diseases, but by doing so have punished middle-income countries like Costa Rica because of our successes," he said.
"That was not good because we were doing important things to enhance our capability," Sibaja said. "So the rich countries, who are the ones who produce a lot of CO2, are the bad guys."
Sibaja is not telling the developed world to stop helping low-income countries; instead he would like to see a change in the parameters used to classify countries.
"Let's take for example the middle-income countries, if some of them don't have armies, then that means cooperation will never go to purchase arms so that would be one category," he said.
Costa Rica abolished their military 50 years ago and uses that money towards social development programs such as education and health services.
Another classification would be how a country treats the environment.
"We are not emitting CO2, instead we are absorbing CO2 for others, so instead of penalizing us we should have benefits for that," he said.
Sibaja is looking to change the typical economic measures to add other parameters like peace and environmental protection.
Under Sibaja's plan, the middle-income countries like Costa Rica, Uruguay and Panama, which has also abolished their army recently, can receive benefits from international aid.
The problems in Africa Sibaja said is that the money given by the developed nations under programs such as the Millennium Plan only harm those countries.
"Most of the money that goes to Africa goes to purchase arms for the internal movements and people are still starving there," he said. "This idea is not an easy sell because the big countries are the ones selling the arms and arms sales is big business, if you stop that you are hurting the weapons industry and they have a strong lobby in Congress."
As for Korea, both countries have recently signed an interesting cooperation agreement.
The Costa Rican National Institute for Biodiversity now receives money from Korea to help expand their research in exchange for research conducted by Korean scientists for the purpose of developing new pharmaceutical medication and materials.
The Institute uses the jungles and forests of Costa Rica as a giant lab.
"We are conducting research to find new drugs for the future, new fuels for the future and also learning the way the animals in the forest have survived, so learning from nature is an opportunity."
Wind energy is also another area where both countries can work together, he said.
In exchange for Costa Rica's experience in the wind energy sector, they hope that the Korean government will support their plans to change the parameters that classify countries by income.
"Everybody agrees it's a good idea, but still no one is working on the details," he said.