Costa Rica is a mecca for sportfishing. And the site FishingBooker knows it pretty well!
People travel from all over the world to fish the country's river mouths, beachfront, and deep blue waters. But of all the fish in this angling paradise, there are one species that has become the country's signature catch: Roosterfish.
So why does not Costa Rica have a Roosterfish tournament? There are plenty of Marlin and Sailfish competitions, but nothing for Roosters. That is, until now. This November, Golfo Dulce's Crocodile Bay Resort held the first International Roosterfish Tournament. Teams traveled from Canada, the United States, Mexico, and Panama to compete. Costa Rican anglers also took part, keen to show off their skills.
Who organized the tournament? Why just Roosterfish, and why in Golfo Dulce? Who won? We talked to the tournament organizers and the resort's manager to find out. From what they told us, the event was a huge success!
Why Roosterfish?
Roosters are one of those fish that you fall for as soon as you see one. There is no other fish like them. Their shimmering stripes and mohawk-like crest have some serious photo appeal. Get a Rooster on the end of your line, and you realize that their looks are the least dramatic thing about them.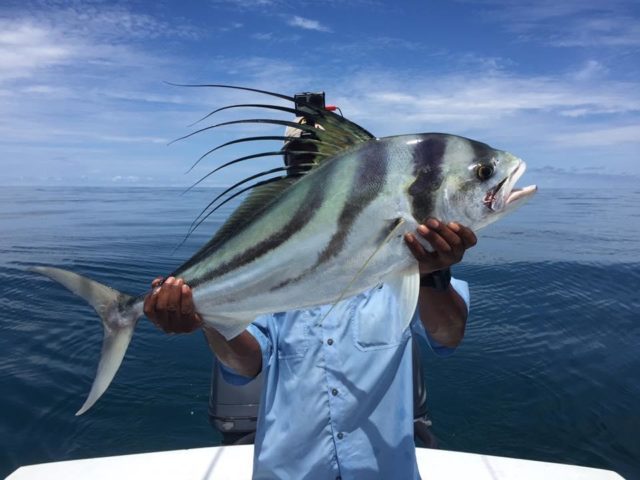 Roosterfish is real hard-fighters. The way they move is unpredictable at best and full on berserk when they are angry. They have enough power to break you off or even pull you in if you are not careful. What makes them even more exciting is the fact that they only live in Central America.
In the past, Mexico was the main destination for American Roosterfish fans. Recently, though, Costa Rica has been drawing more and more anglers on the hunt for huge Roosters. Nowhere more so than in Golfo Dulce.
Why Golfo Dulce?
For Tournament organizer Todd Staley, Golfo Dulce was the obvious choice. "We catch Roosters everywhere here", he explains, "We catch them on the reefs. We have caught them in over 200 feet of water. We have caught them in the middle of the gulf away from the shoreline".
If you are used to Roosterfishing up in Mexico, this might come as a surprise. Mexican Roosters only really show up along the surf line. Most fishing guides do not even look at the deeper waters. Costa Rica gives anglers a lot more options.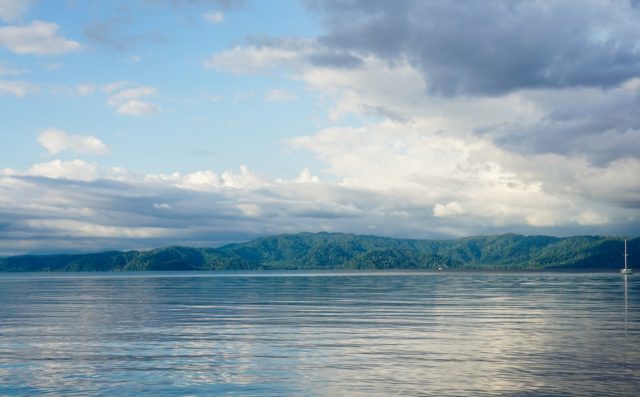 It is not a case of quantity over quality, either. According to Beau Williams, General Manager of Crocodile Bay Resort, Golfo Dulce's Roosterfish can top 100 pounds. Sure, not every fish hits triple digits, but Roosters in the 40-60 lb range are an everyday sight.
Why does Roosterfish love Golfo Dulce so much? Williams had a few ideas. "It generates an abundance of bait fish that Roosters prefer – sardines, mullet, goggle-eyes, blue runners, moonfish, Bonita…" Add in miles of sandy beachfront and tons of rocky, volcanic structure, and the bay becomes one giant fish magnet. Sounds like the perfect place for a Roosterfish tournament.
The Pan-American Sportfishing Federation
So who organized the tournament? The group behind the event is the Pan-American Sportfishing Federation. The Federation holds tournaments all over the Americas. They run 2 Bass tournaments; a Snook tournament, and now, a Roosterfish tournament.
The Federation was created with a simple but ambitious goal: get fishing recognized as an Olympic sport. In PanAm tournaments, each team competes for their country, winning Olympic-style medals instead of prizes. The tournaments are designed as a way of building friendships between fishing organizations and getting more people involved in the sport. That's exactly what they did here in Costa Rica.
The PanAm Federation joined forces with FECOP, a Costa Rican non-profit organization founded to protect the country's fisheries. Todd Staley has been a member of FECOP since it started. Before that, he was the Fishing Director at Crocodile Bay for almost 20 years. In short, he was the perfect man to make sure the tournament was a success.
Staley showed the tournament committee around Golfo Dulce. They visited several different resorts in the Gulf, and Crocodile Bay came out the clear winner. It was big. The staff was professional. It was easy to reach from Puerto Jimenez Airport. Best of all, it had a large fleet of identical, high-quality boats – perfect for a fishing tournament!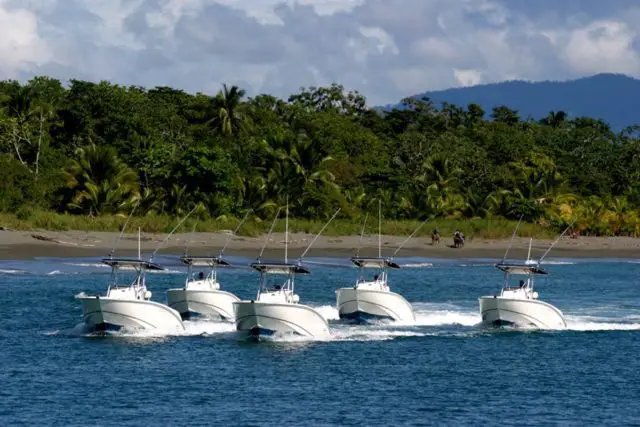 A Great Place for Everybody
The committee had the place. Now it was time to find the people. That was not hard, according to Ben Blegen. Blegen is the captain of Team USA in the Fishing World Championships. He is also a board member at the PanAm Federation. He travels everywhere from Europe to Africa competing for his country, but Costa Rica is still a special place for him.
"The area is one of those bucket list destinations. It is one of those places that you hear about and you want to go but you don't because it is almost too magical. When you do get down there, the country, the fishing, the people – it is just amazing!"
Even beyond the fishing itself, Blegen had great things to say about Golfo Dulce. "It is a great place for everybody. Whether you are fishing or not, everybody loves going down there. So it was not hard to get anglers to go." He is not wrong – A dozen teams from 5 countries flew down to Crocodile Bay, including Canada's first appearance at a PanAm event.
Responsible Fishing
Costa Rica has a lot going for it when it comes to fishing, but one thing that really sets the country apart is sustainability. Organizations like FECOP and everyday anglers both work hard to protect local fish species. As Blegen puts it, "they do such a great job with their conservation efforts and they are really good at it, so they are always proud to invite people down and show everyone how well they are doing".
Following this theme, all fish caught in the Pan-American Roosterfish Tournament were released. They were not even weighed. As Staley explains, "we are not weighing the fish because they have to be out of the water and it is too much of a strain on them". Instead, teams measured each fish and submitted their top ten catches at the end of the day. Healthy fish were also tagged for scientific study.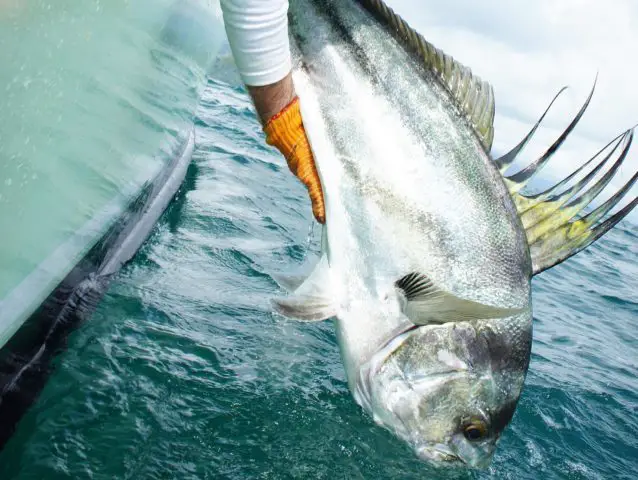 How did the teams catch them? However, they wanted to. The only rules were to use 30 lb line – a safe weight class for the fish and the angler– and to not use harmful treble-hooks with natural baits. Staley did have some tips on how to find and catch the biggest Roosterfish out there, though.
"Here is my analogy of a Roosterfish: They are dumb as a rock to a live bait. You can fool them with a popper, or a jig, or an artificial. No-one has found the holy grail yet on the fly. Fish all the columns of water – do not just concentrate on the surf or the surface. Try deep, try on the surface – they are gonna be someplace".
A Big Deal Locally?
Everyone involved had a blast, but was it important to the town? Tournaments can often pass the local community by, especially when they are run by an international organization. However, according to Williams, that was not the case here.
"The locals in this area are extremely excited to have an international tournament". He explained that Costa Rica's tournament trail had largely passed Golfo Dulce by until now. "While many experienced captains in our area have also fished in Quepos for their Billfish tournaments, they are very excited to get Puerto Jimenez on the map".
Staley agrees that Golfo Dulce's Roosterfish does not get the attention they deserve. As he puts it, "there is plenty of other Sailfish, Marlin, and Dorado tournaments in the country. Nobody's really doing an all-Roosterfish tournament". We are glad to see that they are now.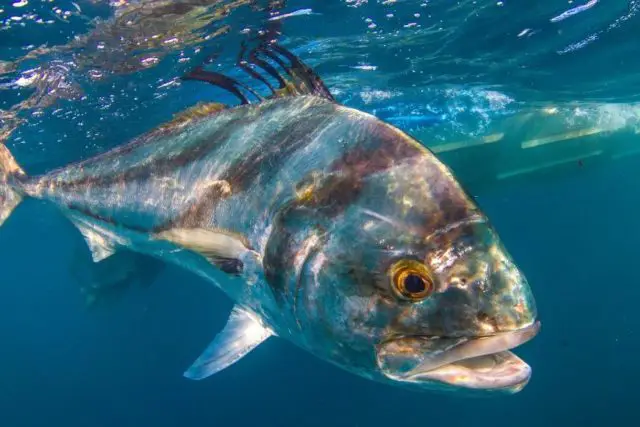 So how involved were local people? Well, all the captains and crews were from the area. The Costa Rican teams were not, but that is fair enough – they would have a serious advantage fishing their own backyard. The head of the local fish board also gave a presentation about the area, and the local school put on a performance. This was the first year, though, so Staley kept to his golden rule: "Keep things simple, stupid!"
The Results
We have talked a lot about the tournament, but who won? Amazingly, it was first-time PanAm participants, Canada. Blegen remembers their excitement at getting involved. "4 guys came down from Canada and just had a blast. They led out on day one, and on day 2 they were the gold medalists. It was really neat to see them get so excited about it. About what we are doing and why".
Team Mexico came 2nd, beating Team USA by a single point to earn the silver medal. There was also a prize for the individual best team, which Canada won, too. For a country which has been absent from the Fishing World Championships for some time, they sure did prove themselves this year.
Regardless of the results, everyone had an amazing time. And that was kind of the point. Have fun, build friendships, and get people involved with what the PanAm Federation hopes to achieve. As Blegen explains, "people think it is just another tournament. But once they understand what it is all about, that adds a lot more to the excitement of being there and what they are a part of".
What is Next?
"The Pan-American Federation was formed less than 2 years ago", says Staley, "it is in its infancy but hopefully it will take off". He and Blegen both said that fishing as an international sport is centered in Europe at the moment, but the PanAm Federation has high hopes of catching up. They sure seem to be, creating four tournaments across three countries in just 2 years.
So what is next? Was this a one-off? Absolutely not, says Blegen. "We will be holding a Tarpon Pan-American tournament in September next year, over in the Caribbean. We are excited to head back to Costa Rica". The federation may have some way to go for their Olympic dreams, but they are determined to get there.
November 14th-19th, a total of 37 anglers came from 5 different countries to fish the beautiful waters of Golfo Dulce. They spent the weekend catching, tagging, and releasing dozens of Roosterfish. Everyone had a great time and they all parted as friends. In years to come, we hope to see much more of this: more tournaments, more fishing friendships, and hopefully, even sportfishing Olympians.