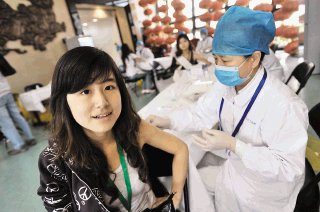 by TCRN Staff
The next seasonal influenza vaccine (the flu) will contain the virus AH1N1.
The World Health Organization (WHO) yesterday asked pharmaceutical companies to use their stocks of the strain AH1N1 for inclusion in the mix of seasonal vaccine.
This new vaccine would be ready in four or five months before the vaccination season begins in North America.
After a four-day meeting, experts from WHO vaccination determined that AH1N1 virus circulation remains high and that the best way to protect as many people as the pandemic virus is included in the seasonal vaccine.
The seasonal flu vaccine usually contains three strains of influenza viruses that cause with the greatest circulation in the environment. In this case, the vaccine will comprise AH1N1 viruses, AH3N2 and B.
WHO officials explained that the virus component delivered to the pharmaceutical preparation for the pandemic vaccine may be used in the new vaccine, but not vaccines, that is already developed, already in pre-ready to protect only against influenza pandemic.