The dream of having a company of its own rounds the minds of millions of Costa Ricans. Whether it is for lack of motivation to work for someone else, for the thorn to develop our idea or for another reason, a personal business is a plan that is in the drawer and we do not always know how to run it.

It all starts with an idea, lights up with desire and starts off with knowing that you can. But reaching that point requires support and knowledge, a few are taught how to build a company. Just educating ourselves and changing the mentality are fundamental initial steps.

That's why we ask how you can begin the transformation of the mentality, the chip change:

Sowing the seed: understanding that you can is a starting point.

Knowing what I will sow and know I can do it: If I can do it, if I can, if I have the strengths and opportunities to start my own business, I must have a self-diagnosis and know the existing tools.

How you can: manage the tools and carry out an education process.

Accompaniment: we are not born walking, someone gives us the hand to learn.

Having the business and follow-up: it is not enough to receive money and launch it, without tracking we will lose.

Outsourcing or subcontracting: once the company is positioned and consolidated, since it is complicated to pay taxes and social charges, looking for services with third parties can be an effective strategy.

Business education is the key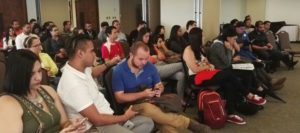 Neuro-linguistic programming as an ally, techniques that introduce that "yes you can" chip into the subconscious without having to see it theoretically.
"At the university or college, we read and receive a lot of information, sometimes without fully understanding it. Each one is different and learns in different ways. Neuro-linguistic programming changes the process of understanding and goes directly to the brain. "
But as each company is different, you must first know each other. The application of a diagnosis will be very useful. This initial diagnosis includes technical, market study, acceptance (within the market) and location.
"We start from zero to develop. The courses are designed for growth. The first step is the diagnostic study. We are going to realize if the project is feasible. And learn the tools, so if in the future you want to do another business, you can do it alone. "
Soluciones Integrales Natura offers courses with theory as a basis, but totally practical. Includes examples, experiential exercises and more. In addition, he teaches specific topics for companies, where all participants speak and build together.
School of entrepreneurs: the first school of its type in Costa Rica, to generate the growth and strengthening of the entrepreneurial spirit.