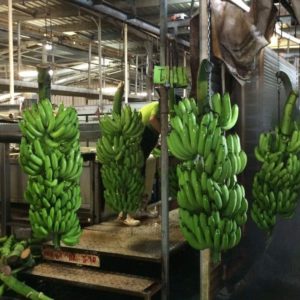 By TCRN Staff
A small laboratory in Pavas developed a molecule, originating from microorganisms, which activates the defense system of banana plants and "vaccinates" it against Black Sigatoka. So far the research has only been testing in greenhouses and but is now ready to be tested on banana plantations.
The control of the Black Sigatoka fungus is of paramount importance as it is a major problem for fruit crops in the tropics. However, according to the National Banana Corporation (Corbana) to control the disease in the 43,000 hectares of fruit in Costa Rica, it would cost nearly $86 million annually.
The research was conducted by agricultural engineer Kenneth Madriz, who won the contest I Entrepreneur 2009 organized by Investment Link, a project that brings together people who invest capital in innovative business ideas. "Madriz surprised the committee with an excellent business plan and indigenous highly relevant research." said Arnoldo Madrigal, executive director of I Entrepreneur.
Kenneth Madriz set up a lab in Pavas under the moniker, Bio Molecular Analysis Technique SA, and began developing the project in 2005 culminating the the greenhouse tests in 2008.
The molecular, called BAM-1, originated in a living organism, but the final product is a derivative thereof, and thus has the advantage of not being affected by weather or by other microorganism influences.
The Corbana research director, Jorge Sandoval, described the work as "very interesting, this line of work is very promising and very innovative."
Madriz works with the Biodiversity Institute (INBio) as a partner. This agency helped him search the immense biodiversity in Costa Rican microorganisms, which was an extremely difficult task. "It was like finding a needle in a haystack," said Madriz.
"We want more green bananas, that is the idea that guides us," argued Sandoval. Corbana researchers believe that BAM-1 will join the clean technology options control.
It is said, to activate the plants own defense mechanisms, "they were asleep," which they send signals to become more resistant to attack. In the process there is no genetic modification.
It is anticipated that the product may be used in controlling diseases of other crops.