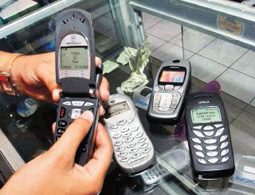 By TCRN Staff
The ICE cell phone customers who paid a fee for their TDMA line greater than ¢ 12,500, are entitled to to a refund of the difference when moving to the 3G network.
When dealing with migration to new technology, users must fill out a form with personal details including account number where ICE should deposit the money.
If the agency official ICE does not offer that option, the customer should ask. This was stated by communications director for the Instituto Costarricense de Electricidad (ICE), Elbert Duran.
Duran explained that the repayment of that money is not made immediately because ICE needs to first make sure that the client has accounts payable.
If there is no bill or debt remaining on the line, ICE's rebate amount will be return returned, with payment usually processed  30 days after the exchange.
For some customers this is a boon as some paid as much as ¢ 60,000 per line so they will be refunded ¢47,500.
According to the latest sales report on Friday 3G connections given by ICE, 13,500 TDMA users migrated to the third generation network.
Another 6,000 people picked up one of the 950,000 connections offered for sale two weeks ago, while there are 50,000 users of GSM phones which are multi-band and are connected to the new cellular network.