Artificial Intelligence (AI) begins to be used and become an advanced assistant in hospitals and medical universities in Costa Rica for patients' care and training of medical students. It is also resorting to last generation androids and augmented reality. In the case of AI, for example, with an X-ray, computerized tomography (CT), magnetic resonance imaging (MRI), or an ultrasound test, the system's algorithm recreates the image in 3-dimensional (3D) form.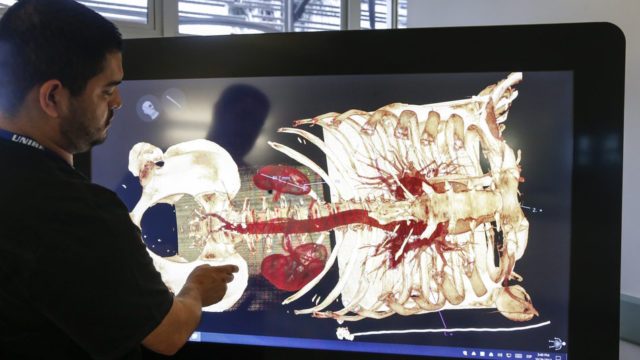 Initially, a doctor observes down to the smallest detail to detect unknown situations, confirm previous diagnoses, and decide on the intervention or treatment to follow. "This trend makes medicine safer, cheaper, and faster", said Christian Blanco, Dean of the Faculty of Medicine at the University of Latin America (Unibe). In this regard, Unibe has had an AI platform developed during 1 year by a Swedish-Japanese consortium. Additionally, this center has several simulation robots designed for this purpose.
In a similar way, AI is also used at the Hospital La Católica, whereas at the University of Medical Sciences (Ucimed) there is a simulation center with androids, and the Hospital Clínica Bíblica announced that it will introduce this technology, including a 3D Virtual Reality (VR) simulator, "in a near future".
"At the moment, investments are being made in improving the technology of handling medical images that serve these technologies", said Kenneth Rojas, coordinator of the medical management of Hospital Clínica Bíblica. In this sense, the Costa Rican Social Security Fund and the Metropolitan Hospital informed that there are no projects including these technologies.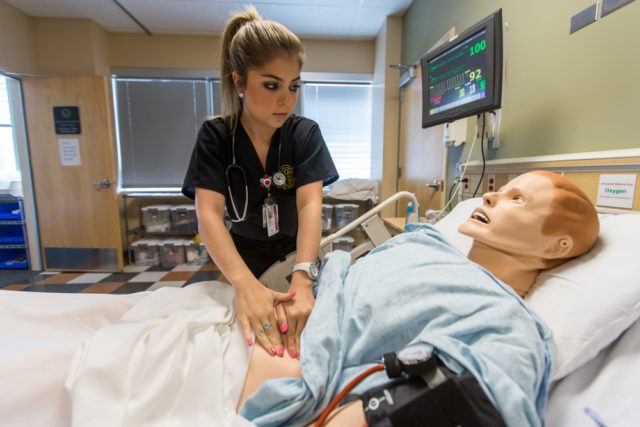 The investments made at hospitals and medical universities range from US$ 20,000 in specific solutions such as chatbots used for customer service, to more than US$ 100,000 in simulation robots. With a 3D image, the AI system can show the detail of a bone lesion, a tumor, the distance of internal organs, or the presence of gases.
Any doctor will know what he will find and determine if an incision is required or if the seriousness of the case makes a surgical operation be totally unnecessary. The main benefit for the patient will be, apart from the more exact diagnosis, that invasive, painful, risky, and long-recovery surgeries are also avoided.
On the other hand, when using that network patient information is not shared, according to the rules of confidentiality and privacy policy of personal data.
A digital image can be deepened enough to make observations at the level of skin, muscles, organs, or skeleton, just as required. Even the patient can watch them and know their situation. The comfort of the platform is such that, in a surgery room, the screen is placed horizontally and the specialists observe the images that will help them during the surgical intervention.
The Unibe made this system available -without cost- for the country's hospitals in terms of medical diagnoses. On average, up to 15 cases are received monthly.
Advanced training
Apart from the advances achieved in AI, hospitals and universities like Ucimed and Unibe are progressively incorporating new generations of androids. Robots for simulation have been used locally for almost a decade for systematic training of medical personnel.
The new devices come with built-in sensors, neural networks, synthetical materials, and more advanced designs. These robots recreate the symptoms of blood pressure, vomiting, temperature, or any other condition, and simulate more complex surgeries, too.
New technologies available for medical and educational centers

Every day, systems of AI and robotics used for simulation are being incorporated into  hospitals and university medical courses in Costa Rica.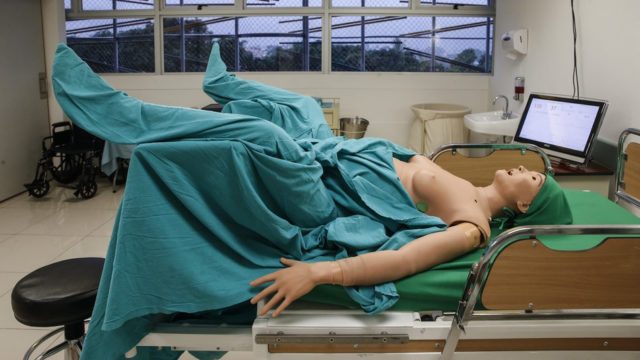 For example, the Ucimed also has just incorporated augmented reality simulators in ophthalmoscopy (for examination of the fundus or posterior part of the eye). In augmented reality, physical and virtual images are combined. Moreover, these images must be explored with the use of VR devices for training.
To finish, María Calvo and Pablo Guzmán, Coordinator of the Simulation Center and Rector of Ucimed, respectively, emphasized that the simulators train students of medicine and pharmacy to face high-complexity scenarios in the future with real patients.