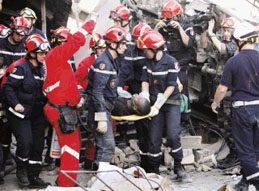 by TCRN Staff
Twelve days after the Haitian earthquake on January 12, the official death toll has reached 111,499 dead and is expected to reach 150,000 by Monday.
TIP: Get our latest content by joining our newsletter. Don't miss out on news that matter in Costa Rica. Click here.
The Minister of Communication, Marie Laurence Lassec, stated yesterday to the press that teams of Haitians, Mexicans and Dominicans are still searching for survivors, despite the UN announcing that they were abandoning these tasks.
Despite the differences that exist between the UN and the Haitian government on rescue efforts, yesterday French firefighters found and extracted a 23 year old man from the rubble of a grocery store where he was trapped for eleven days.
As for the plans to relocate the 610,000 homeless housed in makeshift camps, mostly in Port au Prince, the Minister said that had not yet begun to move them and simply said that two large camps need to be built for them, though declined to identify where.
"We need tents to house these people," explained the minister who trying to close the nearly 500 makeshift camps in squares and gardens that abound throughout the country which lack the most basic hygienic measures.
For their part, the national coordinator for health issues, Claude Surrena, said the hospital and medical facilities, even if they are overcrowded, have sufficient medical personnel and medicine stocks.
However, Surrena cited two problems. First, Haitians, once healed and ready for hospital discharge, have nowhere to go because they had lost their home and continue to occupy a bed.
The second drawback is the fact that an unspecified number of people with fractures or wounds fled the capital in recent days and are housed by family and friends without having received attention.
Yesterday the banks started to work again in the Haitian capital: 42 banking offices opened their doors and users formed long lines for hundreds of meters in various locations in the capital. There were no noteworthy incidents.