An 8-year-old surfer, Ricardo Ferri Lara (Ricky) -known as a grom of the area, managed to save a 6-year-old French tourist who was dragged by the current in Playa Cocles to the place where 'Ricky' was surfing.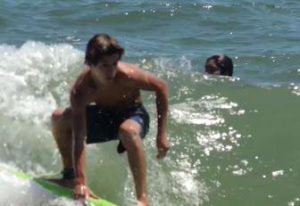 According to the versions, the current that got her deep inside at a time when the girl left her parents, took her to the place where Ricky could react in time. There, he mounted her on his board, and started the rescue.
According to reports, at that time surf instructors and lifeguards from Playa Cocles were aware of the matter and attended a Ricky who, although managed to keep the girl afloat, it was impossible to take her to shore because of the size of the girl.
"The family had 3 girls with them, but this one got into the current of the shore. Today, Cocles Beach was a bit big and nobody noticed. The first one was my son (Ricky) because when I saw him he was already with the girl on his board. Immediately, the surf instructors assisted him", said Lara Busby, a community leader in Puerto Viejo and Ricardo's mother.
"Fortunately, my son surfs well and knows the currents of his beach, this helped him a lot at the time; however, the girl spoke to him in French and he did not understand, "Lara added. When they asked Ricky about what he did, the 8-year-old hero replied: "That is what gentlemen do".