Puerto Viejo is a small town located on the Atlantic Coast in the Province of Limón and has one of the most beautiful landscapes that can be found in Costa Rica. It's amazing to see Puerto Viejo, as well as the vacationers and good vibes, there are crystalline blue waters and good waves for surf lovers … If you want to relax, enjoy sunny sunsets and try the Caribbean food, Puerto Viejo is your place. Don't forget to go without trying a good Patí with a beer next to it and a bit of the typical "rice and beans" that drives the Costa Ricans crazy.
Puerto Viejo de Talamanca is a popular tourist destination. It's known in the surf community for having the largest and most powerful wave in Costa Rica, called "Salsa Brava". It is also a site of beautiful beaches such as Playa Chiquita, Playa Negra and Punta Uva, which are some of the most spectacular beaches in Costa Rica, and can be found between Puerto Viejo and Manzanillo. The latter is a popular place for boating and is located 13 km south, following the beach. The popular Jaguar Wildlife Rescue Center is also nearby.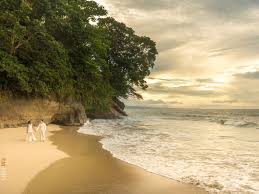 Many tourists stop in Puerto Viejo on their route to the Panama border in Sixaola. This border is popular with people coming or going from Bocas del Toro. Puerto Viejo offers the accommodations, restaurants, and services closest to the border. The small border towns of Sixaola and Guabito are located 49 km south of Puerto Viejo and do not offer lodging or restaurants. Tourists typically stay in the Costa Rican and Panamanian customs. Changuinola, in Panama, offers lodging, restaurants, and services across the border.
The inhabitants of the town are mostly of Costa Rican origin, with a substantial population of Jamaican descent, as well as a good number of Europeans who have migrated to the region. The surroundings of the town and the mountains of the region are home to the indigenous Bri Bri. The howler monkey is native to the region.
Recreational activities include surfing, national park tours and guided visits to animal contact farms, crystal clear diving, cycling, among others.